Free CritiCall Test Practice: 2023 Prep Guide by iPREP
Few hours of practice make all the difference.
Ace that Test!
Has it always been your dream to help others in an official capacity? Dispatching for a public-safety organization may be the job for you! However, to become an emergency dispatcher, you'll need to pass the CritiCall public safety dispatcher pre-employment test first (aka 911 CritiCall and 911 Dispatcher test).
The CritiCall test measures your ability to make decisions in the moment, summarize calls, and communicate with public safety officers clearly. It screens out applicants who don't have what it takes and can highlight your unique ability to maintain a cool head under difficult circumstances.
Did you know?
The CritiCall Test is comprised of up to 23 modules. Job candidates are only assessed with modules that are relevant to the position they are applying for.
The most common modules are: (1) decision making/multi-tasking, (2) data entry, (3) memorization, and (4) map reading. Passing scores for the modules range from 57%-70%.
Successful candidates demonstrate their ability to think on their feet and respond quickly to simulated emergencies.
Your hearing, reading, writing, spelling, map reading, and memory skills may all be put to the test. You'll also be challenged to come up with the right solution after being given a challenging problem.
Each CritiCall test is customized for different roles a job might require. For example, a dispatcher's test might focus more heavily on map reading, mathematics, and giving directions, while a call takers test might put more emphasis on call summarization, memory recall, and prioritization.
Your dream of becoming an emergency services dispatcher depends on you passing the CritiCall test. It's time to get ready!
CritiCall Question Types Explained
You'll be facing a number of different types of questions while taking the CritiCall test. Throughout the test, you'll also have emergencies pop on your screen which require you to click on the correct agency (police, fire, EMS, or utility) to handle.
There are a number of data entry modules, where you are required to type information into a field that either appears on screen or is said to you through your headphones. Some sections test your memory by not allowing you to type anything for five seconds.
Because the modules in your test are picked by the agency you want to work for, not all tests will include all of these types of questions.
Most Common Questions on the CritiCall Test
Decision-Making / Multi-Tasking
Text format – You will see a scenario on screen and have to decide which agency should handle the emergency. You have 15 seconds to read about the emergency and make the decision. These scenarios usually pop up when you are in the middle of solving a completely different task, thus they assess your multi-tasking skill.
Choose the appropriate agency with these decisions rules:
Police: Threatening, attempting, or actually physically harming another person; Damaging or causing harm to another person's property
Fire: Immediate signs of a fire in progress; Fire alarm is sounded; Someone is trapped or confined and needs to be rescued or released
EMS: An emergency medical condition requiring intervention by medically trained personnel
Utility: A problem associated with malfunctioning or broken public infrastructure (e.g. water, electricity, gas, sewage)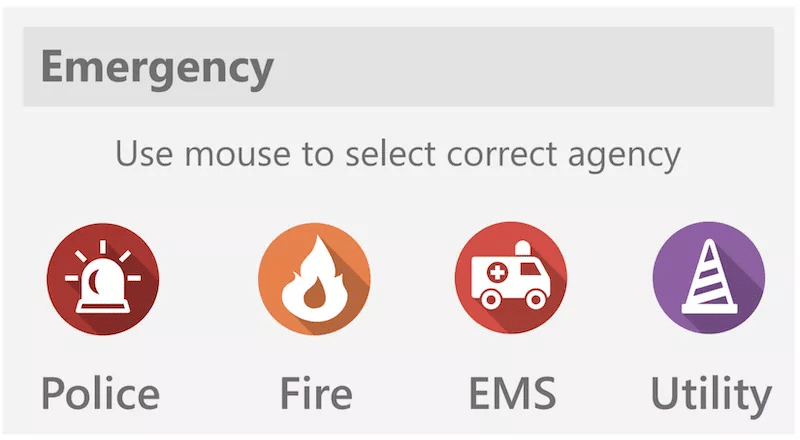 Vocal format – this less common format works exactly like the module above, except for that the test taker answers in his or her own voice. The answer is recorded and later interpreted by the assessor.
Decision-Making Sample Question
EMERGENCY – EMERGENCY – EMERGENCY
Using the "Decision-Making Rules," select the most appropriate agency to respond to the following emergency scenario.
A vehicle swerved off the road. The driver is having difficulty breathing.

The correct answer is EMS.
Emergency Medical Service should be dispatched when there is an emergency medical condition requiring intervention.
Data Entry
Text format – You will see information on the screen and need to type it into another field on the screen. At times, the data will be presented in a straightforward manner, and at times, you will have to extract the information from a report log or a conversation. The exact formats of the information change between organizations according to their needs.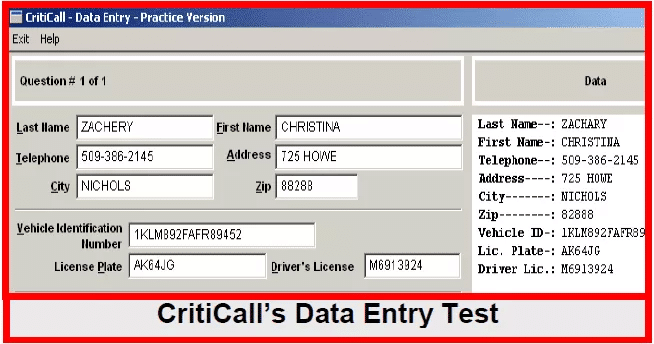 Audio format – You will listen to information or an emergency call through the headset and type relevant information into fields while you are listening. You will only be able to hear the information once.
Data-Entry Sample Question
You will hear various pieces of information such as names and phone numbers.
Enter the information in the correct data entry box using ALL CAPS.
The order that you are given the information may not correspond with the order that the boxes are presented.
You can move between the data boxes using either the mouse or the TAB button. TAB will move the cursor forward one box, while Shift+TAB will move backward one box.
Last Name
.
First Name
.
Phone Number
.
Address
.
City
.
Zip / Postal
.
Vehicle ID Number
.
License Plate
.
Driver's License
The Complete Form
.
YANG
Last Name
.
STEVEN
First Name
.
5239721996
Phone Number
.
3910 HISTORIC
Address
.
RIDGELINE
City
.
70684
Zip / Postal
.
BREG90136480A679
Vehicle ID Number
.
W79VET
License Plate
.
XL060254
Driver's License
Memory
Text format – This module assesses your short-term memory of textual information. You will either see a group of 6-9 numbers and letters or a short phrase and then you will need to type it into a field a few seconds after it disappears.
Audio format – This module assesses your short-term memory of auditory information. You will hear a series of 6-7 numbers and letters, or a short phrase, but will not be able to type them into the computer. After a few seconds, you will hear a tone indicating that you may type what you have just heard.
Memory Sample Question
Enter the string to the field below only when the instruction "Type Now" appears
Type Here:
Map Reading
You will see a map with several indications on it–markers of the specific place and position of some emergency units. You will need to demonstrate your understanding of the map and use of relative and absolute directions and take into consideration traffic restrictions while directing the units to the desired location. In all cases, you must recommend the fastest route.
Map Reading Sample Question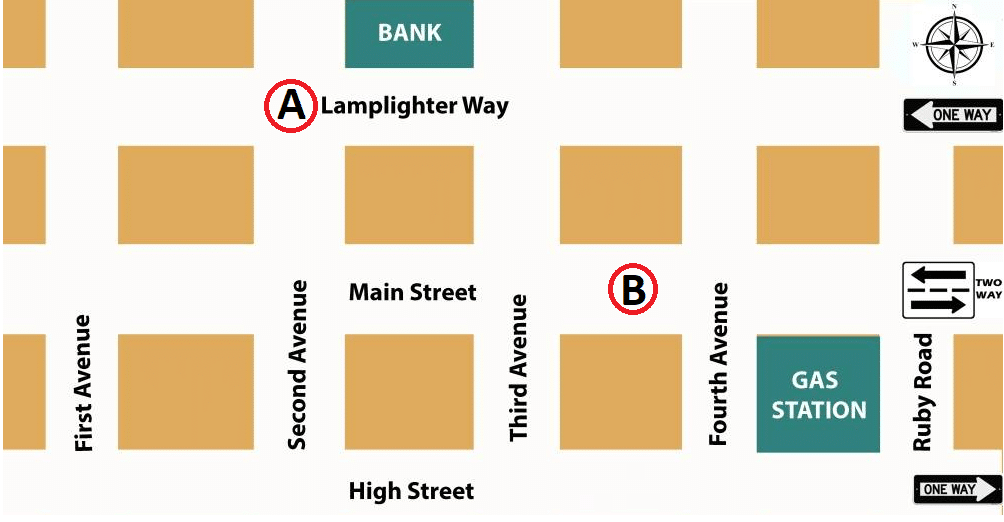 In order for unit A to reach unit B it can drive in the following directions:
south and then west
north and then east
north and then west
south and then east
The correct answer is south and then east.
Unit A first travels south on Second Avenue and then east on Main Street.
Prioritization
The system will present several scenarios. You need to decide which is the most critical based on a given priority list.
Vocalization Summary / Call Summarization
You will listen to a call and answer questions based on your memory of the conversation. During the call, you will be allowed to keep notes of the conversation and use them in order to answer the questions that follow.
Cross Referencing
You'll be asked to find information in an address book, where you may be given someone's name and have to find and enter the correct address.
Cross-Referencing Sample Question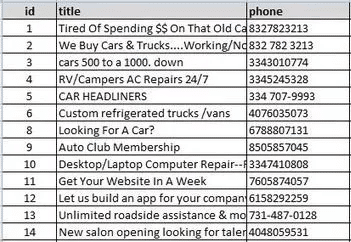 Your camper is stuck and needs roadside assistance. Which number should you call?
3345245328
7314870128
3347079993
6788807131
The correct answer is 7314870128, which is listed as 731-487-0128.
It is the number of "unlimited roadside assistance…"
Notice that the number 3345245328 is of a service that repairs campers' AC (air conditioner) and not of roadside assistance.
Probability
You will be presented with several sources of information that review the same subject and include details such as names, IDs, telephone numbers, dates, etc. You will need to answer multiple-choice questions in which the correct answer is based on the most prevalent data in the given information.
Reading Comprehension
You will be presented with a job-related level reading passage, which will be followed by several multiple-choice questions.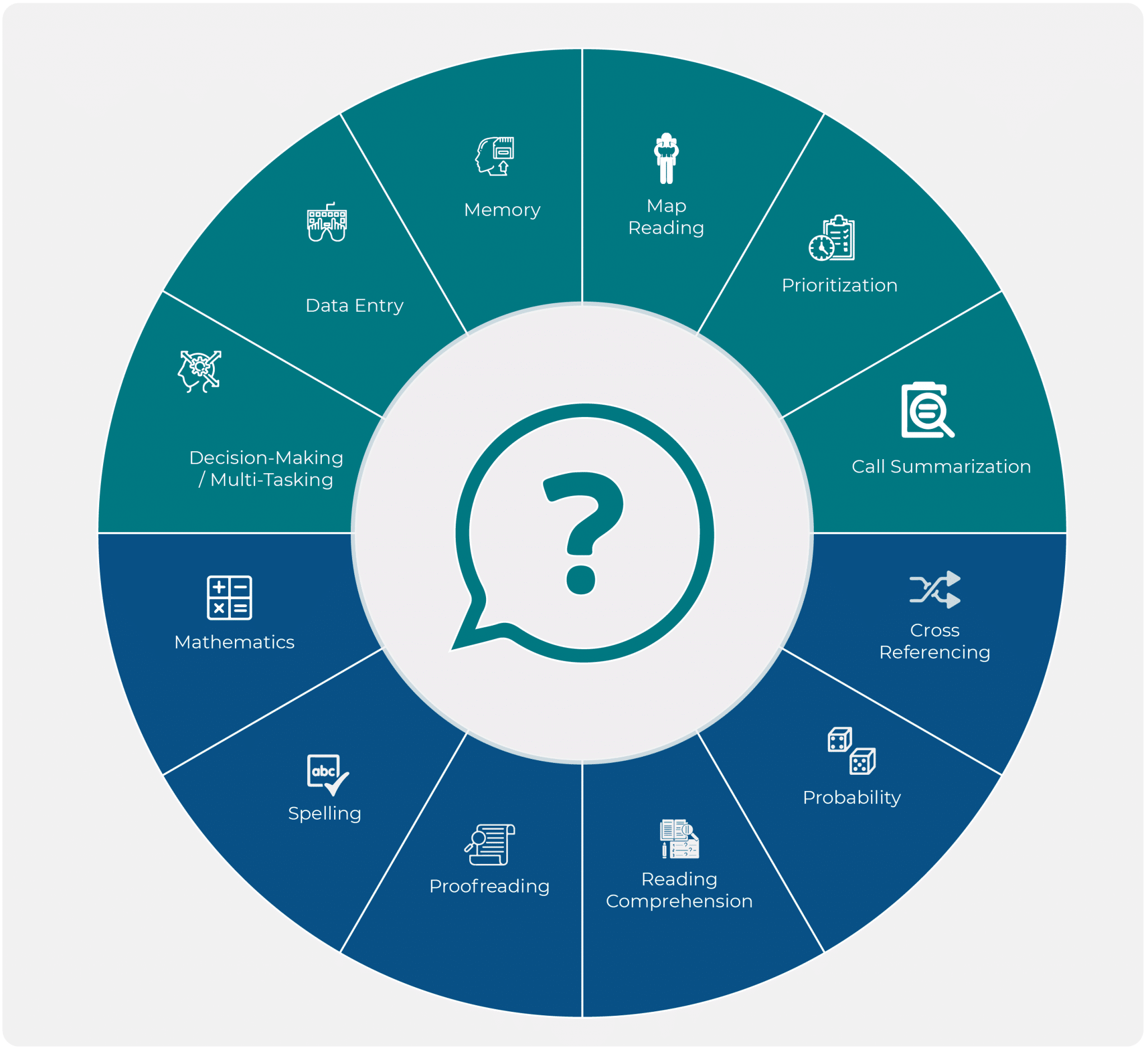 Proofreading
You will be presented with a series of sentences. Each sentence contains a grammatical error that candidates will need to identify and correct.
Proofreading Sample Question
Select the clearest statement of facts from the two choices below.
The paramedic made sure she do not forget the equipment there.
The paramedic made sure she did not forget the equipment there.
The correct phrasing is:
The paramedic made sure she did not forget the equipment there.
There must be a subject-verb agreement. A correct version of the first sentence will use "does" instead of "do."
Spelling
You will need to fill in sentences with a correctly spelled word. The words may be confusing, like illicit, or be homophones like there and their.
Mathematics
You will need to demonstrate basic math skills, mostly involving the four basic operations, fractions, percents, and decimals. The questions are job-related scenarios that require some numerical computation.
Mathematics Sample Question
In yesterday's incident, a firetruck was spraying water for 15 minutes at a rate of half a gallon per second. How many gallons did the firetruck spray?
450 gallons
750 gallons
300 gallons
900 gallons
The correct answer is 450 gallons.
15 minutes = 15 x 60 seconds = 900 seconds.
Rate of half a gallon per second x 900 seconds = 900/2 = 450.
CritiCall Preparation Strategies
Passing the CritiCall test can be challenging. Here are some strategies you can use as you get closer to test day. Being prepared for the types of questions you will see on test day will help you feel at ease while taking the exam, and give you the confidence you need to pass the test.
Familiarize Yourself with Multiple CritiCall Question Formats
One of the things about the CritiCall test is that you cannot know in advance exactly which question types will appear in your specific test since each agency picks the modules from 23 available formats. Therefore, try to familiarize yourself with as many question types as possible so that you reduce the chance of being surprised on test day and boost your confidence.
Learn how to approach each type of question in advance—this way you can use the sample questions, which are provided at the beginning of each section of the actual CritiCall test, to start your engine rather than acquiring new knowledge.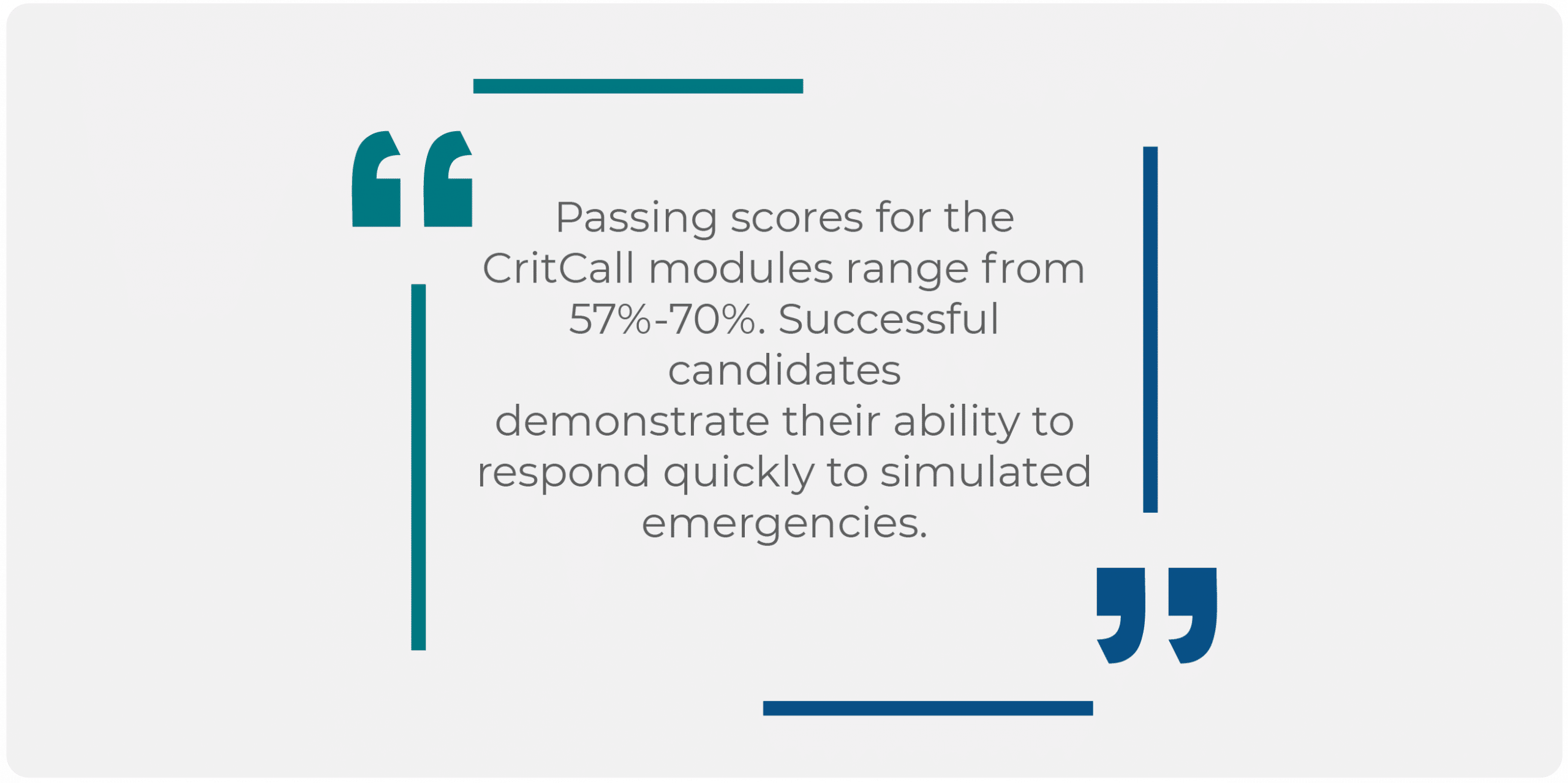 Practice Accurate CritiCall Test Simulations
There is no replacement for simulating accurate CritiCall practice tests—this is the best preparation approach available. Therefore, do not settle for familiarizing yourself with the question formats. but rather try to find a preparation course that simulates an entire test as accurately as possible and with the respective time constraints. Taking the actual test will feel much less intimidating afterwards.

CritiCall tests are completed on a desktop computer. To prepare for real test conditions, ensure you are using a full keyboard with a keypad and a mouse (not a laptop trackpad).
Learn the CritiCall Decision-Making Rules by Heart
Decision-making tasks, as portrayed above, will accompany you throughout the CritiCall test. These already pose a great deal of effort on your attention as they require you to split your attention. Therefore, it is crucial to learn the CritiCall decision-making rules in advance—this will allow you to act faster and more accurately while responding to these emergency scenarios. A good preparation course will introduce you to many scenarios in which you will need to choose which unit to dispatch in each scenario. Nonetheless, you can create scenarios in your mind as well and dispatch units to them. The most important thing is that even if you are awoken in the middle of the night, you will know instantly which unit you need to dispatch.
Use Forums and Social Networks
As mentioned, each agency creates its own version of the CritiCall test. You can try contacting the administration office and enquire about the anticipated format, but it is likely that you will not get a definitive answer. Instead, use your social networks to ask other applicants what you
should expect on your specific test. This may help you focus on the most important skills you'll need to sharpen.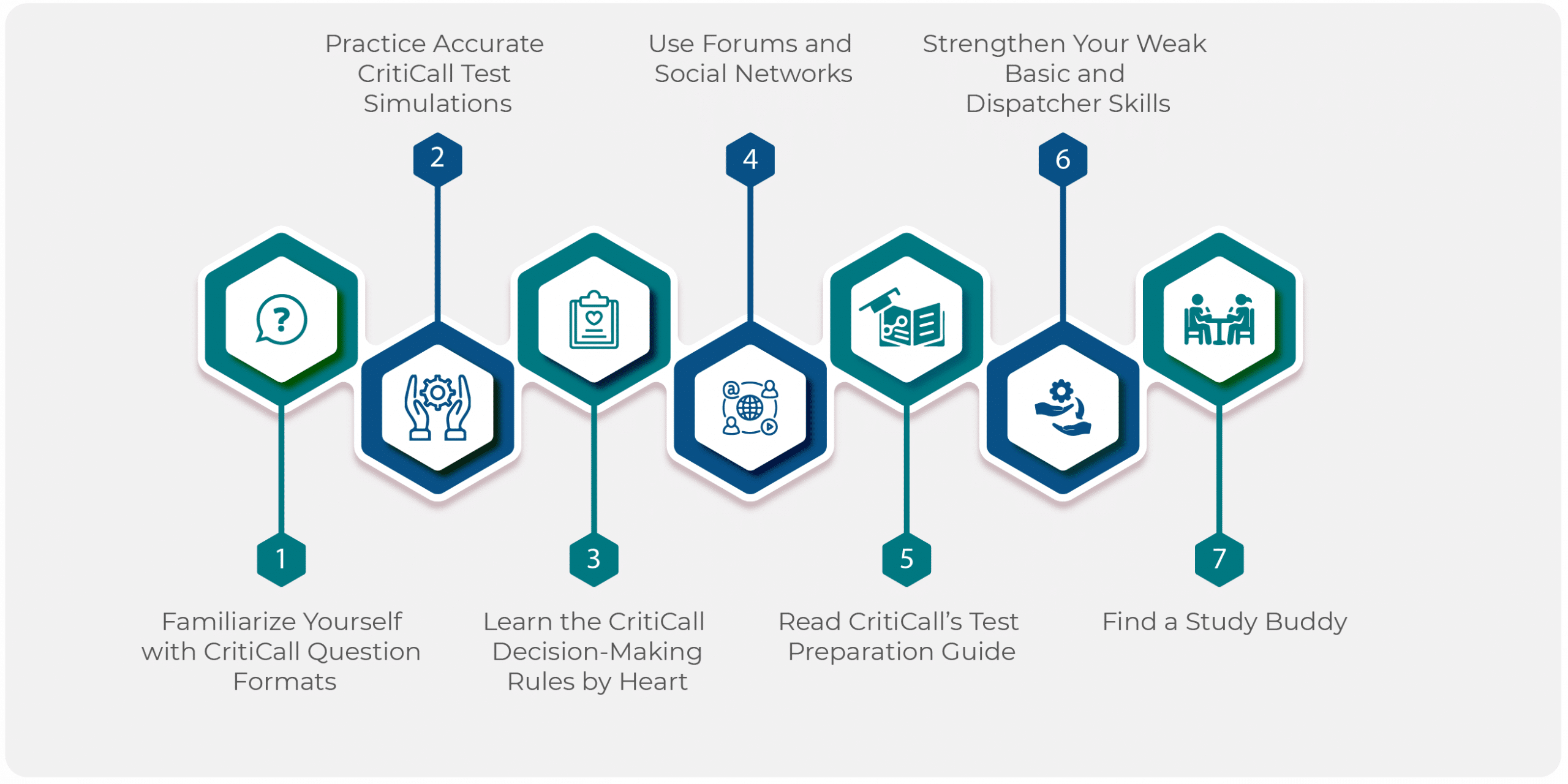 Read CritiCall's Test Preparation Guide
Even if you found the perfect course, do not give up on meticulously reading CritiCall's test preparation guide before taking the test. This guide contains their test preparation hints, some images from the actual test, and important administration tips that may not be found in your course. You will also likely receive a test preparation guide from your recruiting agency. Read it as well as it will contain relevant info to your test. However, these official study guides are always partial and never replace a good preparation course.
Strengthen Your Weak Basic and Dispatcher Skills
You must pass each section of the CritiCall dispatcher test individually, which means that you cannot rely on your strengths to cover for your weaker skills—you have to be sufficiently capable in all aspects. Therefore, once you realize what your weaknesses are after completing a few CritiCall practice tests, you can find ways to improve the specific skills. For example:
Typing speed too slow? Improve your speed by interacting with some of the numerous free online typing coursewares such as typing.com and typingtest.com and thepracticetest.com.
Sharpen your typing skills with a regular keyboard and a numeric keypad.
Maps confuse you? Focus on a random Google map and explain to a friend how to get from point A to point B using terms such as block, left-right-straight, and north-south-east-west. Make sure to get feedback about how clear and accurate the instructions were.
Data-entry frustrates you? Have someone read phone numbers, names, and addresses to you and type while listening. In addition, create your own lists and type them into a blank document. Finally, you can simply try to transcribe or summarize various audio sources and then verify that you correctly spelled the information. You can also use online sources such thepracticetest.com.
Need to sharpen your short-term memory? Enlist family members or friends to read or show you words and phrases, and wait 5-10 seconds to type them in after you heard or saw them.
Find a Study Buddy
The previous tip mentioned a few examples in which studying with a friend will improve your skills. Besides that, mutual study sessions ensure that you will be committed to your studying schedule.
And Finally – Choose your CritiCall Preparation Course Wisely
There used to be no CritiCall practice tests at all. That is not true any longer.
Nowadays, you may find several test prep options, all claiming to provide decent preparation. Therefore, you must be an intelligent customer. First of all, make sure that the preparation is tailored to the CritiCall test (there are a few generic preparation courses available for dispatcher exams, which may only confuse you), check who the author of the course is, read the user reviews, try some sample questions and see if they actually resemble the CritiCall format, and only then make a choice. Obviously, we believe in ourselves. iPrep is the one and only CritiCall preparation course that was written by a 911 expert, who is closely familiar with the test and the dispatch world.
Download Your Copy of the CritiCall Test PDF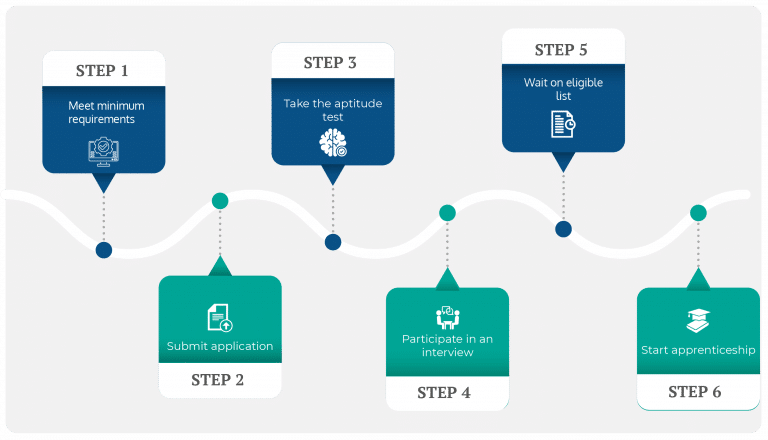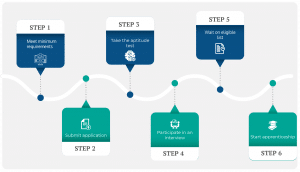 Test Features
CritiCall has developed 23 different modules, which can take up to 3 hours to complete. Employers choose which modules to include on the test.
CritiCall is used by over 1,800 agencies, including 50% of State Police and the U.S. Department of Homeland Security to screen dispatchers and call takers.
The test is typically administered by the hiring agency. You'll sit at a computer with a headset and respond to items that are on-screen and come in through the headset. Some elements may also include your verbal responses.
CritiCall Is a Dispatcher Skills Assessment
The CritiCall test measures your abilities in the following:
| | | |
| --- | --- | --- |
| Decision making | Multi-tasking | Data entry |
| Using a computer | Listening and using information heard | Using alphabetical lists |
| Comparing and contrasting data | Prioritization | Memory recall |
| Spelling | Sentence clarity | Reading comprehension |
| Map reading | Basic math | Keying a microphone and speaking clearly |
Dispatcher Skills
There are some hallmark responsibilities for an emergency dispatcher and the CritiCall test tries to assess them. These responsibilities include the ability to quickly process information, remember facts, and make fast decisions. Based on these, the dispatcher must accurately dispatch emergency units. The relevant CritiCall modules are:
Decision making
Prioritization
Memory recall
Map reading
Attention to Details
This is a basic requirement of a dispatcher—he or she should be attentive to small details, which may prove valuable in the process of dispatching accurate and sufficient emergency units to any scenario. The following skills are included:
Data entry with multi-tasking
Audio data entry with multi-tasking
Comparing and contrasting data
Cross-referencing
Using alphabetical lists
Character comparison
Basic Skills
In addition to the above, the applicant must demonstrate a sufficient level of basic skills that allow him or her to carry out the various tasks of the dispatcher's routine. These skills are:
Call summarization (listening ability)
Reading comprehension
Spelling (writing ability)
Sentence clarity (writing ability)
Basic math
Speaking clearly (not always tested)
911 Dispatcher Test Vs. CritiCall Test
The CritiCall test is a 911 dispatcher skills test. There are several other dispatcher skills tests that are used throughout the US, but the CritiCall test is the most common one. We recommend verifying with your recruiting agency if they will be administering the CritiCall dispatcher test or a different dispatcher test as it will be most beneficial for you to prepare for the specific test format you are about to encounter.
Results Scale and Interpretations
What is a CritiCall test passing score?
Every agency can divide the test differently, and each one decides on their own pass/fail scores, but the average overall passing score is usually 70-75%.
Did you know?
It is important to note that in most cases, the agency requires a passing score in each and every section and not just an overall passing score. This highlights the importance of familiarizing yourself with the test format prior to taking the test.
Based on our research, many agencies require passing scores in the following ranges. Please be aware that some agencies may require higher passing scores in some sections.
Attention to Detail
| Section | Passing Score |
| --- | --- |
| Data entry with multi-tasking | 55-60 keystrokes per minute |
| Audio data entry with multi-tasking | 28-40 keystrokes per minute |
| Keyboarding | 35 words per minute |
| Cross-referencing | 56%-70% |
| Character comparison | 70% |
Dispatcher Skills
| Section | Passing Score |
| --- | --- |
| Prioritization | 70% |
| Memory recall | 61%-70% |
| Map reading | 62%-70% |
Basic Skills
| Section | Passing Score |
| --- | --- |
| Call summarization | 57%-70% |
| Reading comprehension | 57%-60% |
| Spelling and sentence clarity | 68%-70% |
| Math | 70% |
Your score report will provide the following information:
Your overall score
A pass/fail report on each of the modules included in your test
Your score on each module
The minimum score you needed to achieve to pass the module
Your typing speed – some agencies may report your keystrokes per minute, while others report your keystrokes per hour
Unfortunately, most agencies do not release candidate test data. They simply tell you if you were successful or unsuccessful or, in rare cases, give you the overall score as a percentage. Your scoring per section will not be disclosed.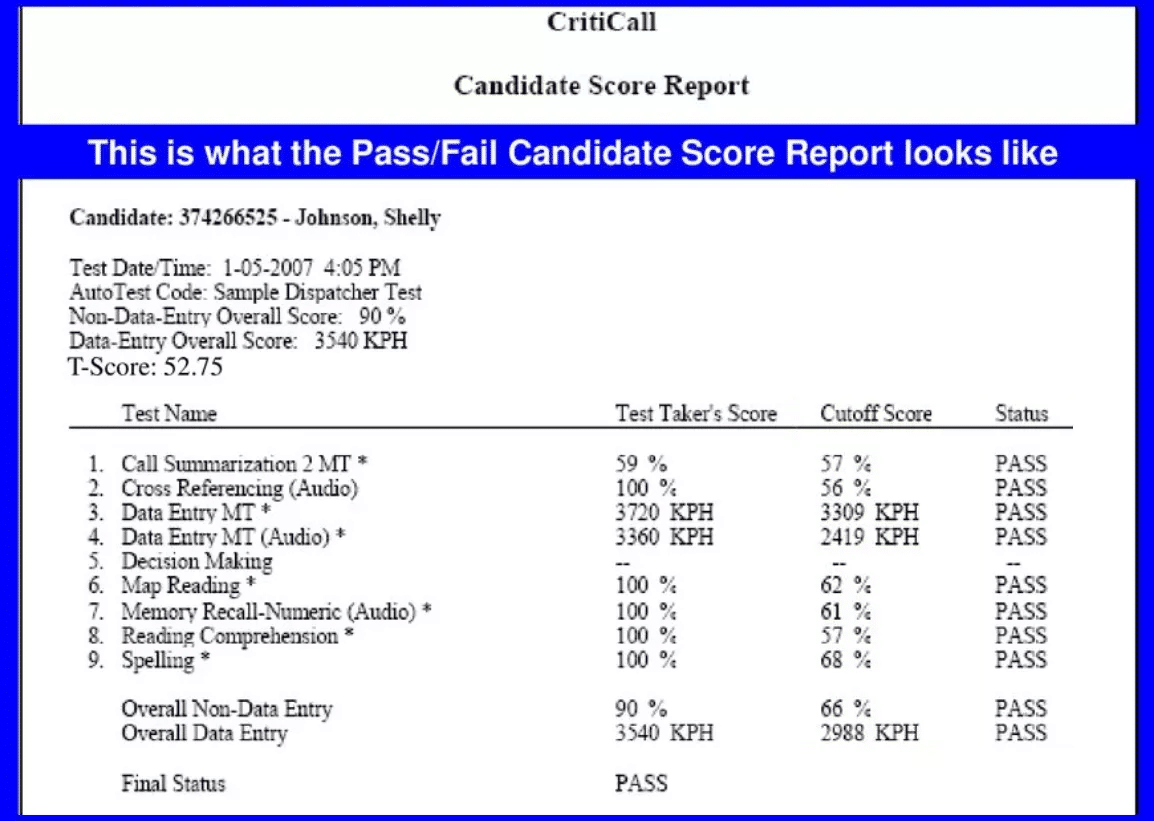 iPREP: Concise. Focused. What you need.
Practice
Online self-paced
CritiCall FAQs
What is the CritiCall test?
The CritiCall test is used to screen candidates for 911 call centers and dispatchers. It presents different scenarios to test takers to test their likelihood of success in these roles.
How long is the CritiCall test?
The CritiCall test takes between 1-3 hours, depending on the number of modules included in the test.
How do I pass the CritiCall test?
Being prepared is the best way to pass the CritiCall test. Know what to expect, and practice using test prep tools like those provided by iPrep, as well as using the tips included in our Preparation Strategies section.
How do I prepare for a CritiCall exam?
There are many ways to prepare for the CritiCall exam. Practicing in advance, using simulated questions and circumstances, increasing your typing speed, and working on your data-entry, map reading, and attention to detail skills will help you get ready for test day.
Can I retake CritiCall if I fail?
Every department has its own policies. However, the test is part of the hiring process, so you will typically have to wait until the next round of hiring before you can try again. If you apply to several agencies at once, you may be required to take the test in each hiring process regardless of your score in the other process.
What does the CritiCall Test measure?
The CritiCall test measures the likelihood of your success as an emergency dispatcher or call taker. The different modules measure your ability to react under pressure, transcribe information, and recall numbers, as well as basic math and reading comprehension.
Can I take CritiCall from home?
For the most part, no. The CritiCall test is typically administered at the agency location where you are applying for a job. It requires a computer, headset, and recording device to complete the test, all of which are available at the agency. However, an agency may decide to allow taking the CritiCall test from home; however, it will probably require passing applicants to retake the test at the agency to verify the results.
Which agencies use the CritiCall test as part of their application process?
Over 1,800 public-safety agencies use CritiCall to recruit new dispatchers, including 50% of the US Highway Patrol and State Police agencies, the US Department of Homeland Security, and Canadian provincial dispatch agencies.
What is a passing/good score on the CritiCall test?
To pass the CritiCall test, you must get a passing score on every individual module. Usually, the passing threshold is 70-75% and roughly 3,000 keystrokes per hour. The better your score is, the sooner you will be invited to take part in the next step of the hiring process.
How long does it take to get CritiCall test results?
Results are immediately sent to the hiring agency except for tests that include vocal responses, which may take a couple of days to arrive. However, usually, candidates do not get a personal report of their achievement but only a pass/fail notice from the recruiting agency within 1-2 weeks.
What should I wear to the CritiCall test?
Business casual should be fine. You cannot really overdress, but make sure to wear an outfit that will be comfortable for up to three hours of computerized testing.
Is the CritiCall exam hard?
The honest reply is yes. The time constraints, the multiplicity of testing formats, and the necessity to succeed in passing each individual module make it quite difficult to pass the CritiCall. Familiarization with the format, simulating timed tests, and ample practice on your weaknesses should make passing the test simpler.
Which dispatcher skills are assessed on CritiCall?
That depends on the modules chosen by the recruiting agencies. The common skills, which are assessed are decision-making, multi-tasking, data entry, using a computer, listening and using heard information, using alphabetical lists, comparing and contrasting data, prioritization, memory recall, spelling, sentence clarity, reading comprehension, map reading, and basic math.
CritiCall Test Tips
To do well on a timed test that includes English, diagrams, and numbers, all you need is precision, planning, and practice. Although it may be difficult, the following tips will help:
Keep the time in mind. Some questions have a time limit, which adds in another element of stress. Practicing is the main thing that can help you; so practice as many timed questions as possible. iPrep's CritiCall simulations include this important element.
Listen and read all the instructions very carefully. Even if you are familiar with the format by virtue of your preparation, it is always good to refresh yourself and to make sure that the test is not a variant of the format you know.
Do not skip multiple-choice questions. Any question that you skip is considered a question answered incorrectly and you will lose points! Therefore, if you have to skip, make your best guess and maintain a 25% chance of getting the points for the question.
The CritiCall test is generally set up with a CAPS LOCK keyboard so that all answers will be in uppercase letters. Punctuation should generally be ignored as well. iPrep's test will mimic that experience.
Use the NumLock on the keyboard and utilize the keypad for quick typing of numbers. Be prepared that some sequences may be alpha-numeric and you may need to include letters with your left hand.
Use the "Tab" and "Shift+Tab" buttons to navigate between text fields. These respectively move you to the next and previous data entry fields.
Practice your typing skills to improve speed and accuracy. Use online typing tests or typing training resources.
Sharpen your map reading skills in advance. Ensure that you understand directional terms such as north, south, east, and west and that you can read and direct people using standard online maps.
Familiarize yourself with the CritiCall "Decision-Making Rules" prior to the test. Throughout the test, several call scenarios will pop up and you must select the appropriate service to dispatch based on these rules. The full CritiCall Decision-Making Rules are explained and simulated in iPrep's CritiCall simulations.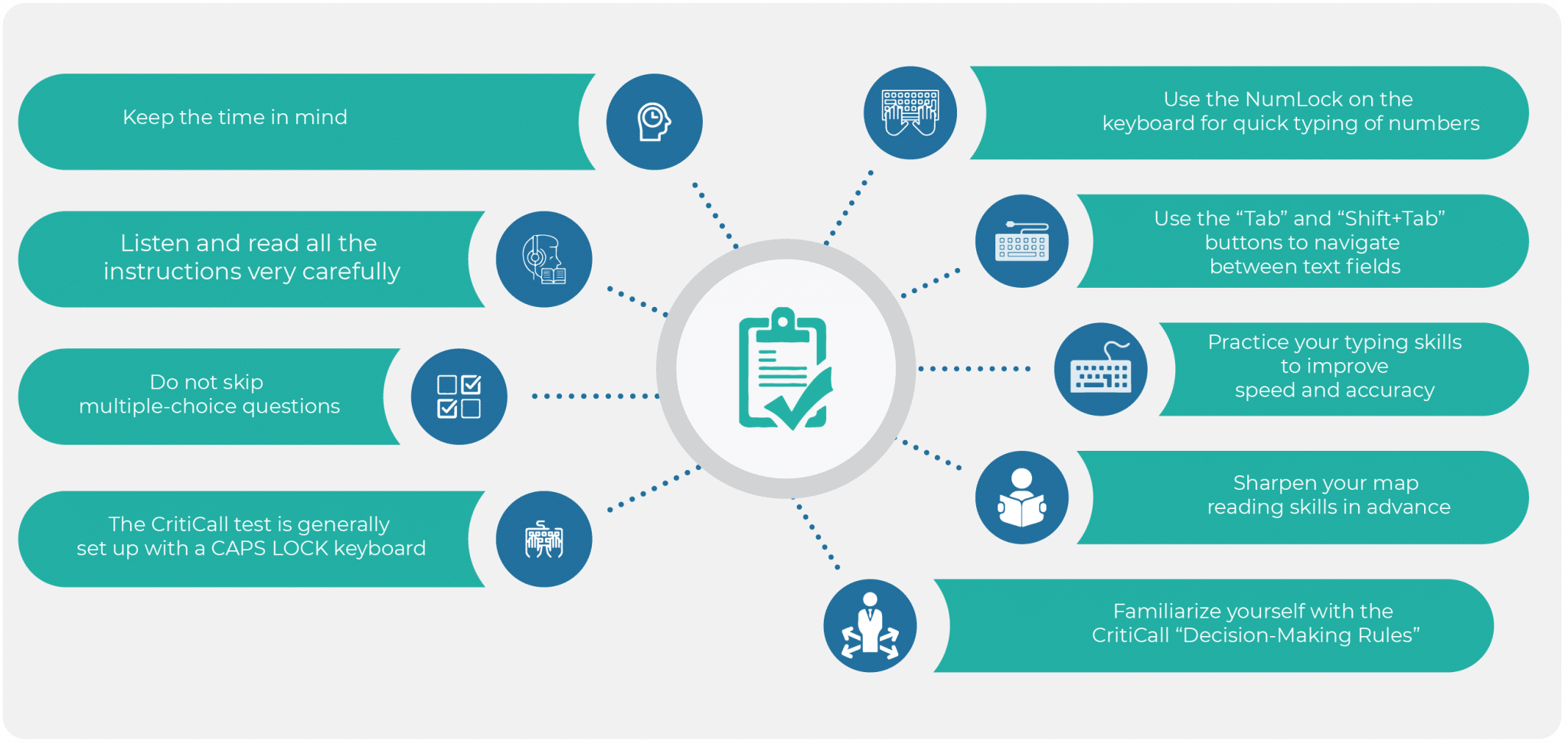 Administration
Test location: The CritiCall test is administered by the hiring agency, usually in its office.
Test schedule: It generally takes place early in the hiring process, as a way to screen out candidates who will be unable to complete the job tasks or who will feel the nature of the job is not for them.
Test format: Computerized simulation.
Test materials: You will take the test on a computer, and wear a headset. You may also have a microphone connected to the headset if the test includes verbal responses.
Cost: The fee of the test is usually included in the job application fee ($0-$100)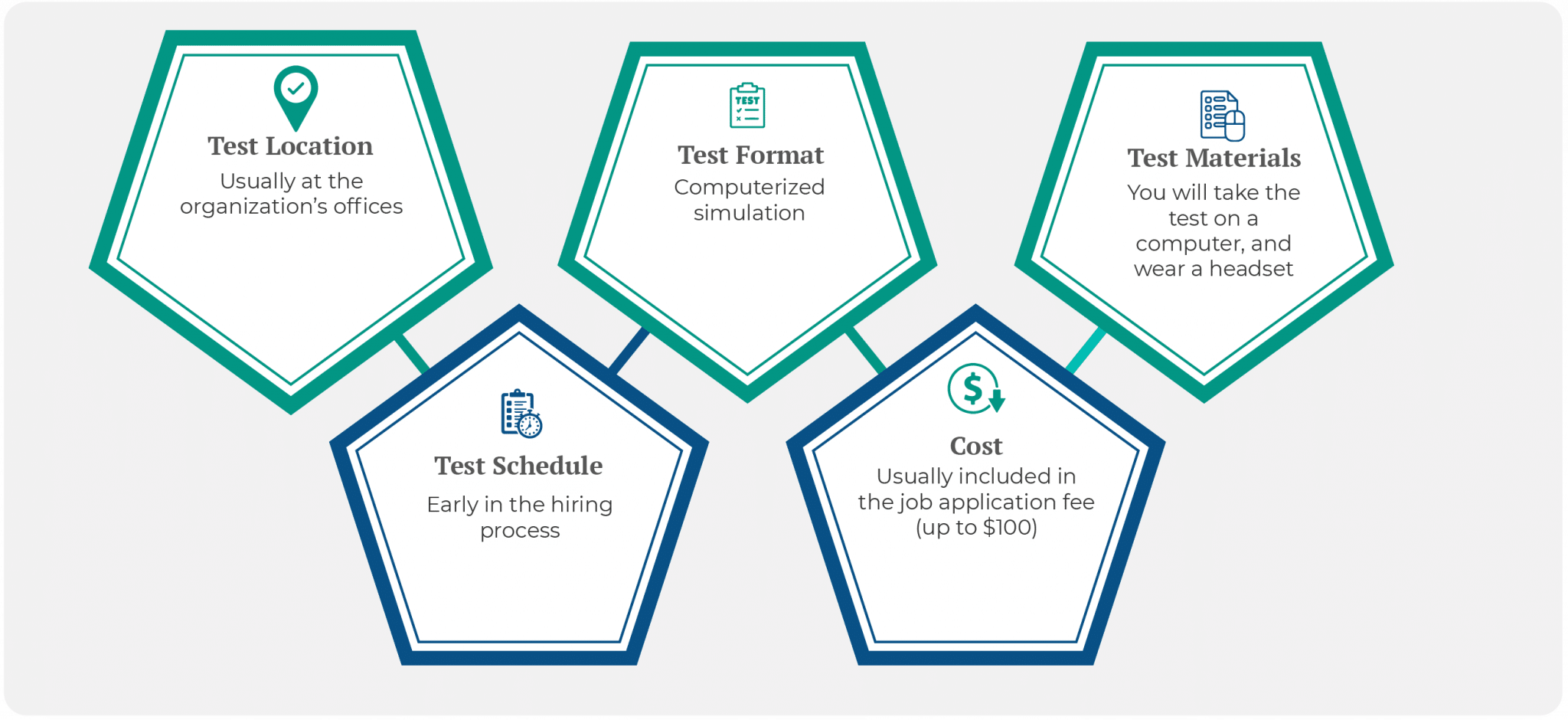 Test Provider
The CritiCall test was created by Biddle Consulting Group and administered by the organization hiring the employee. It is used by public safety agencies to screen potential employees, as well as show candidates what the job of a dispatcher is like.
This test preparation course is based on the original CritiCall test that is designed to assess the skills associated with 9-1-1 communications. Please note that Biddle also offers other non-emergency pre-employment testing products. On rare occasions, 9-1-1 communications centers have used the non-emergency products and referred to them as "CritiCall tests." These tests are not intended to assess 9-1-1 communications skills and this package does not include preparation for these tests.
Information Sources
Disclaimer – All the information and prep materials on iPrep are genuine and were created for tutoring purposes. iPrep is not affiliated with Biddle Consulting Group, which is the owner of the CritiCall brand.
Get a taste of the CritiCall Test by practicing with these sample questions:
Question 1 of 6
Read the attached call summary and enter the pertinent details in the correct fields.
Dispatcher Jenifer Rosen took a call for a single-vehicle collision in Louisville. The call came in at eleven thirty-four in the morning. The caller lived at 218 Clovedale Drive in apartment 229. His name was Jeff Thomas and he was calling from 404-718-8847. He advised that a truck ran into his front yard and hit a tree. No one was injured but he is upset about the damage to the tree. The vehicle left the scene moments after the accident but Jeff took a photo of the license plate. It is a Kentucky plate number RA45E2.
.
Caller's Name
.
Phone Number
.
Address
.
Apartment
.
City
.
Problem Type
.
License Plate No.
.
Emergency Agency
.
Dispatcher Name
.
Call Time
Here is the complete form. Note that there can be some variations.
Dispatcher Jenifer Rosen took a call for a single-vehicle collision in Louisville. The call came in at eleven thirty-four in the morning. The caller lived at 218 Clovedale Drive in apartment 229. His name was Jeff Thomas and he was calling from 404-718-8847. He advised that a truck ran into his front yard and hit a tree. No one was injured but he is upset about the damage to the tree. The vehicle left the scene moments after the accident but Jeff took a photo of the license plate. It is a Kentucky plate number RA45E2.
.
JEFF THOMAS
Caller's Name
.
404-718-8847; 4047188847
Phone Number
.
218 CLOVEDALE DR; 218 CLOVEDALE DRIVE
Address
.
229
Apartment
.
LOUISVILLE
City
.
VEHICLE COLLISION; SINGLE VEHICLE COLLISION; ACCIDENT; CAR ACCIDENT
Problem Type
.
RA45E2
License Plate No.
.
POLICE
Emergency Agency
.
JENIFER ROSEN
Dispatcher Name
.
11:34am; 11:34 am; 1134; 11:34
Call Time
Question 2 of 6
Instructions: Select the clearest statement of facts from the two choices below.
Emergency Communicators spend more time sitting then the average person.
Emergency Communicators spend more time sitting than the average person.
The second option is correct.
It utilizes "than" rather than "then"
Question 3 of 6
Instructions: Use the map to navigate the four emergency vehicles throughout the city. Always use the most direct route that is safe and obeys all traffic laws.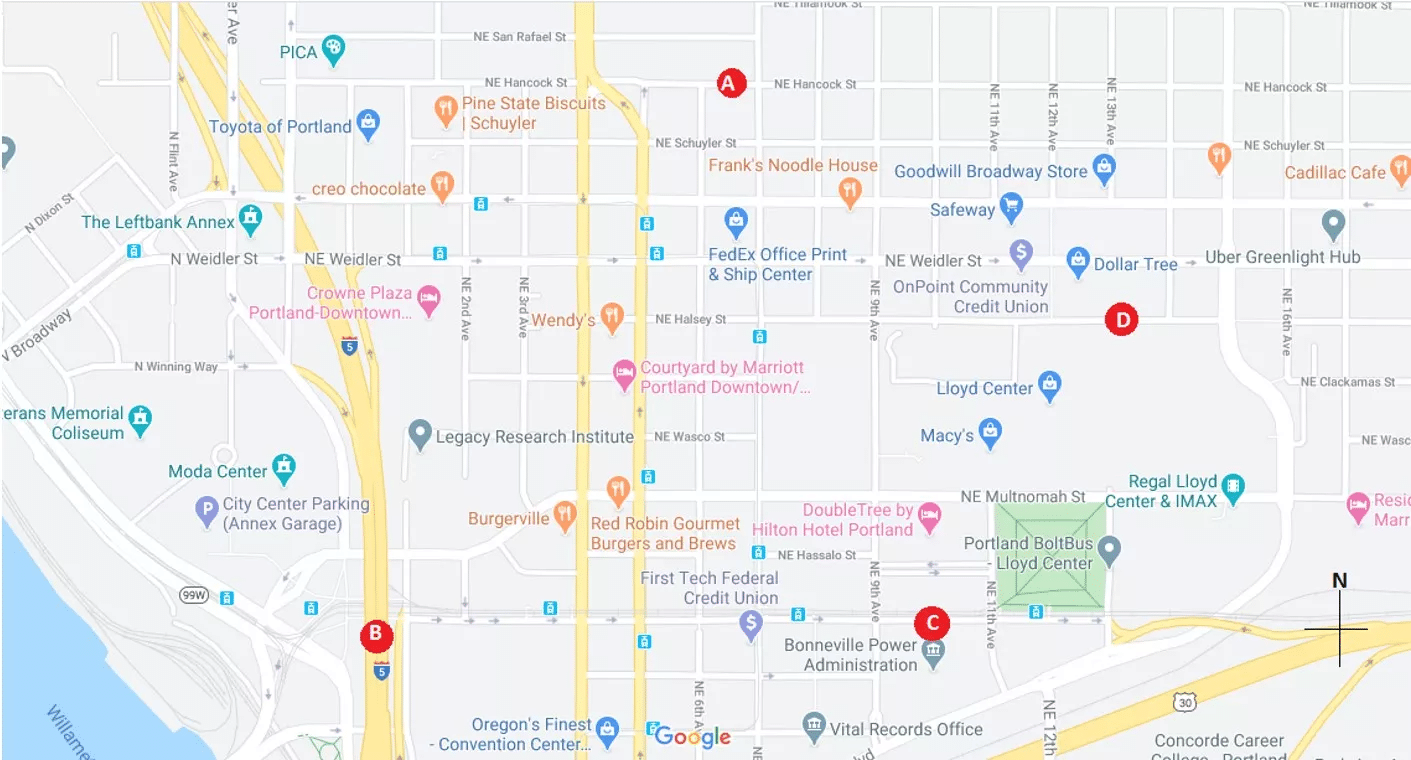 Unit A needs to respond to OnPoint Community Credit Union quickly. They must avoid 8th and 9th Avenue due to construction delays. What is the shortest legal route they can take?
Drive east 1 block, turn right, drive 3 blocks, turn left, drive 2.5 blocks.
Drive east 4 blocks, then south 2 blocks, then east 1 block, then south 1 block, then west ½ block
Drive east 4 blocks and then south 3 blocks
Drive south 3 blocks and then turn right and drive 3.5 blocks
Facing east, turn right, drive 3 blocks, turn left, drive 3.5 blocks
The correct answer is E.
Option E is the correct response as it makes it to the destination in the shortest distance and using the appropriate streets. Since Safeway supermarket is a large block that doesn't allow direct access to OnPoint Community Credit Union from the north, the quickest way will be to begin by driving south and then to get to the point directly on Wiedler St.
Answer A is incorrect because it makes it to the destination but travels down 8th avenue, which was supposed to be avoided.
Answer B makes it to the destination but does not use the shortest route.
Answers C and D do not arrive at the correct location.
Question 4 of 6
Instructions: Listen to the audio track, memorize the sequence of letters and numbers, and fill it in only after hearing the beep.
Letters and numbers sequence:
The correct sequence was 8360KJ1.
Question 5 of 6
Instructions: Analyze the following tables. How many differences are there between Table 1 and Table 2?
| TABLE 1 | TABLE 2 |
| --- | --- |
| Jeffrey Morgan Jefferson | Jeffrey Morgan Jefferson |
| 28-06-1968 | 28-06-1968 |
| 689-898 Rowlands Dr | 689-898 Rowlands Rd |
| Mississippi | Mississippi |
| MI5987227111369 | MI598722711369 |
| 8986-4171-5565-4111 | 8986-4171-5565-4111 |
| 511-333-177 | 511-333-117 |
| 511-336-717 | 511-336-717 |
The correct answer is 3.
| TABLE 1 | TABLE 2 |
| --- | --- |
| Jeffrey Morgan Jefferson | Jeffrey Morgan Jefferson |
| 28-06-1968 | 28-06-1968 |
| 689-898 Rowlands Dr | 689-898 Rowlands Rd |
| Mississippi | Mississippi |
| MI5987227111369 | MI598722711369 |
| 8986-4171-5565-4111 | 8986-4171-5565-4111 |
| 511-333-177 | 511-333-117 |
| 511-336-717 | 511-336-717 |
Question 6 of 6
Select the most appropriate agency to respond to each emergency scenario.
Teenagers have broken into a local high school. They were drinking and using illegal drugs when one teen had a seizure.

The correct answer is EMS.
While the behavior of the teenagers may prompt us to choose "Police," the main emergency is that one teen had a seizure, which means he needs medical care.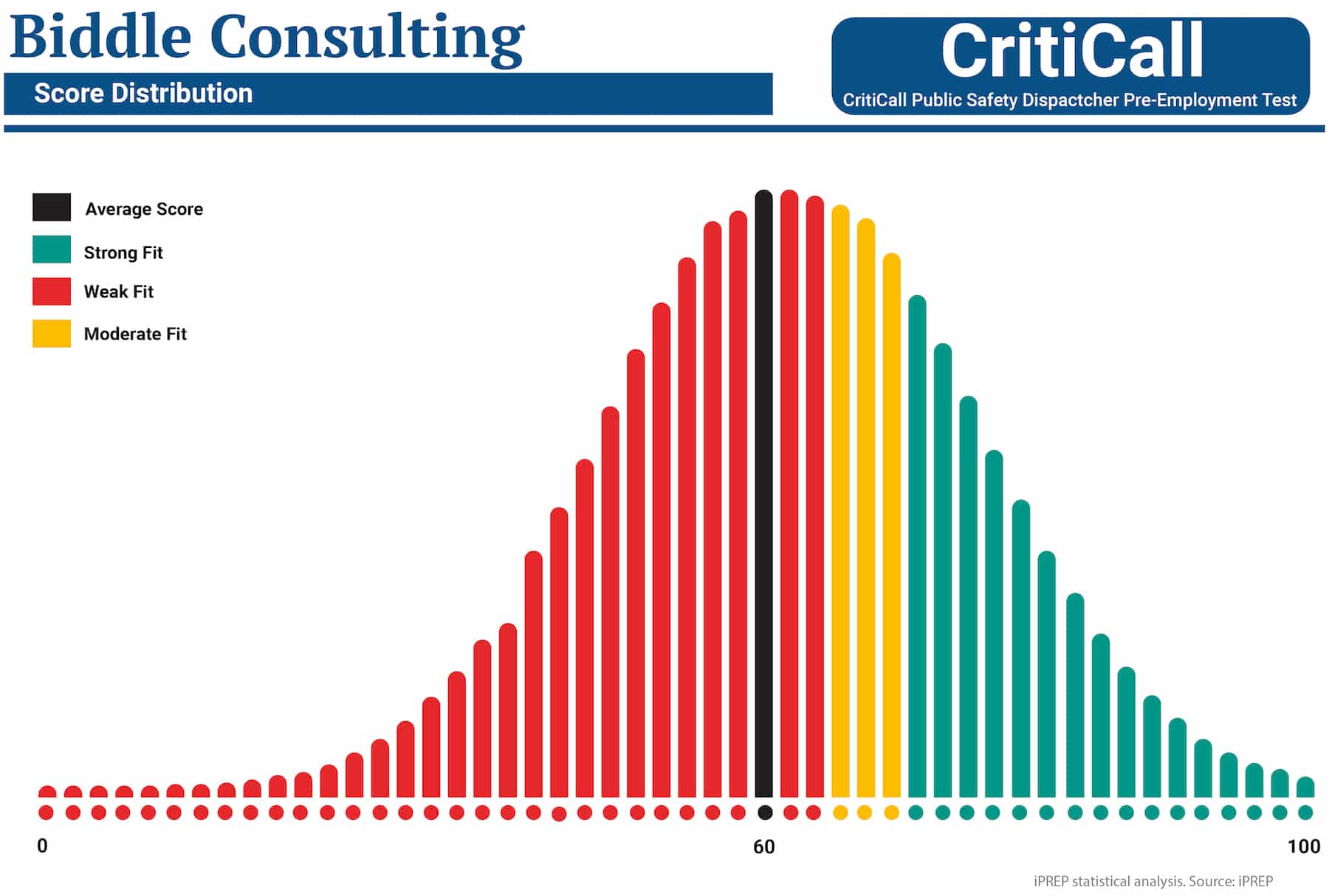 Well done!
You have completed the Sample Questions section.
The complete iPrep course includes full test simulations with detailed explanations and study guides.
'…TESTS THAT ACTUALLY HELP'
In the first 30 minutes of use I have learned so much more than skipping along the internet looking for free content. Don't waste you time, pay and get tests that actually help.
Richard Rodgers
January 28, 2020 at 7:49 PM
About the course
Welcome to iPrep's 9-1-1 CritiCall test preparation course.
This course will help you boost your skills and with it your confidence towards your upcoming CritiCall test. The course will provide you with the following tools and benefits:
You will become familiar with the test's various types of questions.
You will be experiencing 4 full-length CritiCall-style simulation tests. These simulations include similar questions to those you will encounter in the real test with the same level of difficulty. All the questions are followed by full solutions and explanations.
The relevant sections of the test also have the same time limit as the real CritiCall test. Experiencing the test's time pressure will ensure it will not come as a surprise on test day.
You will be provided with a great variety of helpful tips for the different types of questions. Some of the tips are general in nature and tackle the general nature and features of the CritiCall test and some tips are specific for each type of question to make sure that you develop the proper solving methods for each type of question.
By the end of this course, you will be more knowledgeable and comfortable with the CritiCall Test – Knowledge and familiarity with the test are the two most significant factors that can help you maximize your score and improve your chances of success.
The course is comprised of both practice and learning sessions. The introductory sections also include practice questions for you to get a feel for the challenge ahead. You will have the option to review your answers and question explanations.
Following the introductory sections, you will be simulating full-length tests that accurately follow the structure and concepts of the CritiCall. Once done, you will be able to get full question explanations and even see how well you performed in comparison with other people who have taken the test. You will also be able to take the tests in practice mode without any time limit to enable a self-paced progression of the simulation.
Wishing you an enjoyable learning experience!
What you will gain from this course
Understand the CritiCall test structure
Master each question type
Develop speed and accuracy
Curriculum
Course Introduction
Test Overview & Test Tips
Question Types Introduction
Full-Length CritiCall-Style Simulation Tests
Course Conclusion
About the author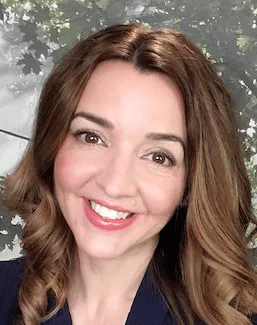 Melissa Taaffe
Emergency Number Professional
Melissa Taaffe is a college professor and author of pre-employment testing materials. She has worked as a 9-1-1 communicator and supervisor in 3 different communications centers and is currently a certified instructor for the Association of Public-Safety Telecommunicators (APCO) and the Office of the Fire Marshal and Emergency Management (OFMEM).
Through hard work and experience, Melissa has been designated an Emergency Number Professional, an accreditation earned through the National Emergency Number Association (NENA). Melissa is also a chief contributor to "911-operator" and is the owner of "911Professor". When she's not working or playing with her kids, you can find her mountain biking or drinking craft beer at a rock concert.
Customer Testimonial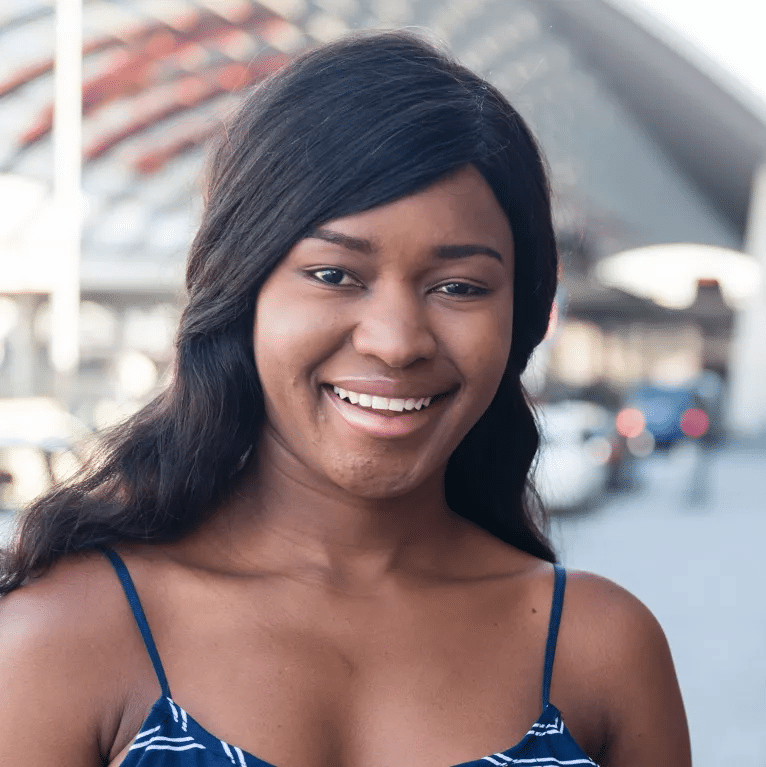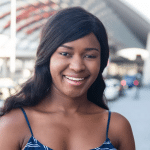 I fell 45 pts. short of passing the official CritiCall on my first try. I was allowed to redo the modules on which I did poorly. I focused just on those modules in my dashboard to solidify those skills and went on to pass on my 2nd attempt. I honestly don't think I would have passed without iPrep. While there are some online sites you can go to for practice, none of the ones I found were anywhere near as comprehensive as iPrep. After taking the test, I was talking with the testing administrator about iPrep. She was not familiar with it, so I pulled it up and showed her the dashboard. She said something along the lines of This is great! I should show this to our trainer. She was very impressed. I recommend this program with no hesitation whatsoever.
Sandra Patel
June 18, 2022 at 4:36 AM
Reviews

May 15, 2023 at 6:38 PM
I've only had the course a week but worth every penny sent, now feel so much better going into the CritiCall test. Thanks so much for such a valuable resource.

May 12, 2023 at 10:11 PM
I am typically a good test taker but this course has boosted my confidence to be able to Ace it next week!

May 12, 2023 at 8:26 PM
It was not like the real test. the test was harder. The maps in the test looked way different. The test came to me as a suprise.

May 12, 2023 at 7:32 PM
So far I love this test prep. I now feel more prepared and confident that I will do well in this test

May 12, 2023 at 8:10 AM
I attempted to take the Critcall test cold without any practice or really a good idea of what was on it. After failing it, I decided I needed to find a good study tool. IPREP has been fantastic & is helping me prep for the test the right way. All the practice tests & practice sections are geared to improve your weak spots & make you more comfortable with the test itself. I'm getting ready to retake the test & I'm much more comfortable with it thanks to my IPREP practice!

May 7, 2023 at 4:13 PM
I must say this preparation course is a must-have for anyone taking a CritiCall test. I tried a different course in the past, and it had a bunch of questions with incorrect answers. I wish I have found this one first as it has a nice mix of everything that can appear in a CritiCall test. Passed my test with flying colors.

May 1, 2023 at 12:09 AM
I am so happy with how this course has helped me prepare for my upcoming test! I wish I would have purchased this sooner.

April 30, 2023 at 9:32 AM
I think this course is very helpful to anyone struggling or needing to sharpen their skills on any portion of the Criticall. This course offers a wide range of practice tests, and even gives helpful tips to improve your weak points.

April 27, 2023 at 11:19 PM
I am taking my Criticall in a couple days. Without the help of this course I would most certainly fail. This has been a life saver! Totally worth the money.

April 17, 2023 at 2:16 PM
Really awesome course! I purchased another course before this one *from another website) and it was not helpful but this one is VERY similar to the actual CritiCall!