Free TSA CBT XRAY Test Practice: 2023 Prep Guide
Few hours of practice make all the difference.
Ace that Test!
The TSA's X-ray test is the most challenging section of the TSA CBT Test. Candidates who pass this test immediately receive a contingent job offer from the TSA and are on their way to a career as a Transportation Security Officer (TSO). During the X-ray test, you will be challenged to identify dangerous and harmless items on an x-ray scan.
The TSA test is most often referred to as an Object Recognition Test (ORT). However, it is frequently called the Image Interpretation test, the Pre-Board Screening Officer Test, the X-ray Threat Identification Test, or the X-ray Competency Assessment Test.
Did you know?
The TSA Exam includes two sections: (1) x-ray or object recognition and (2) English skills. Candidates who pass the test are allowed to move forward in the hiring process. Before you take the TSA test, study the different colors that appear in X-rays, so you can quickly recognize which items are safe and which need a second look.
The TSA test helps the TSA identify candidates who are capable of quickly recognizing dangerous objects, such as guns, knives or other weapons, as well as harmless objects including bottles, phones, chargers or shoes. The X-Ray test measures your ability to recognize dangerous objects before they end up on an airplane. Due to the sensitive nature of this work, candidates who pass this test and get hired with the TSA are often asked to take the test multiple times during their employment to ensure that they did not just get lucky the first time.
X-Ray Types Explained
Threat Identification is the main task in X-Ray competency assessment tests. While looking at x-ray scans during the test, there are a number of different techniques you can use to correctly identify harmful and harmless objects. If you are looking for a free TSA practice test online, we invite you to try our free test.
Object Colors
Objects appear in different colors on the scan, depending on their density. As a rule, the denser the object, the darker it will appear on the scan.
Blue – Objects that appear blue in a scan are dense. These include metals, hard plastics, alloys, and dense ceramics. As most weapons will show up on the scan in blue, these are the first items you should look at closely while examining a scan.
Green – Objects that appear green are less dense. They are typically softer plastic, less dense alloys, or inorganic materials. Objects like electronics, which have a mix of dense and medium dense parts, often appear green and blue.
Orange – These objects are low density, and includes fabric, food, liquids and clothes. Orange items can be deceptively dangerous, as many explosive materials appear orange in the scan.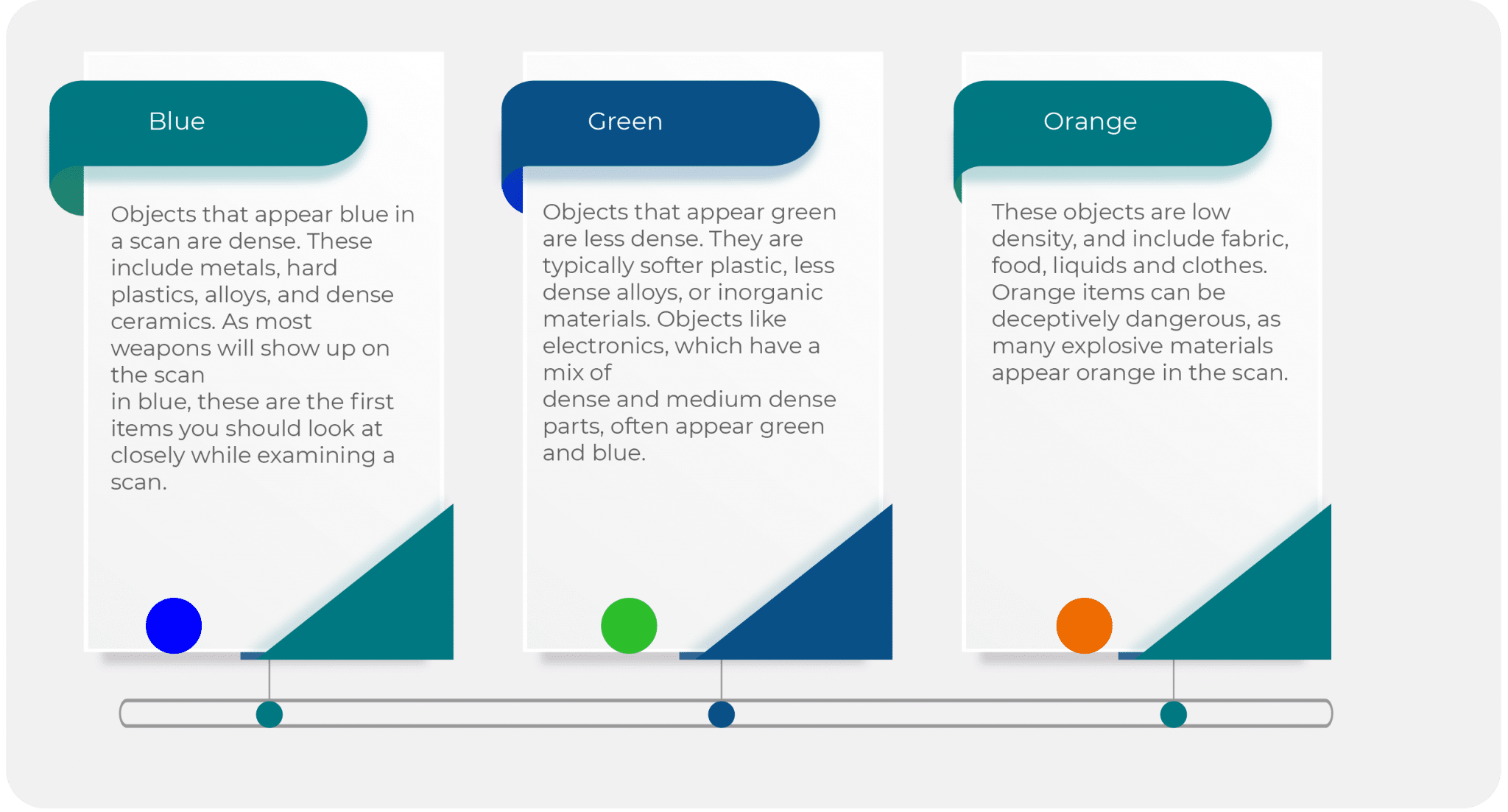 Object Shapes and Sizes
X-ray screeners need to become adept at recognizing the shape of different objects. Folded over objects and bad angles can present challenges to security personnel, who need to recognize the outline of the item to identify it.
The relative size of objects can also help with identification of those objects.
Overlapping Objects
The position of objects in a bag can make it difficult to identify, especially when items are overlapping or there is a lot of clutter in the bag. Your best strategy for handling these types of scans is to try and identify the outline of the objects and make a determination as to whether the items are harmful or harmless.
TSA X-Ray Test Features
The X-Ray portion of the TSA CBT is a timed test.
Before beginning the test, you will be shown how certain objects appear in an x-ray. You will have 30 seconds to study these objects before the test begins. Then, you will have 15 seconds to look at x-ray images of passenger bags and determine if the items are in the scan.
Items to be found on the x-ray image are either dangerous and prevented from going on an airplane, or harmless and can go on the plane. Some scans have knives, guns, grenades, IEDs (Improvised Explosive Devices) and other weapons, while other scans will have harmless objects like laptops, chargers, bottles, shoes, clothes, and toys.
The images can be complex, as objects can overlap, or be turned in different directions, requiring you to mentally turn them around to see if they look dangerous.
iPREP: Concise. Focused. What you need.
Practice
Online self-paced
TSA Test Technical Facts
You will usually be given two practice sessions by the TSA before taking the actual test.
You will also be shown the shapes of 6 different dangerous items before the test, to help them recognize objects which must not get on an airplane. They have 30 seconds to study the shapes.
The x-ray portion of the test contains 5-6 sets of images, with 18 images in each set. Each set takes approximately 5 minutes.
You must by 18 years old or older, be U.S. citizens, and have a high school or GED diploma, and possess excellent visual and cognitive abilities to take the test and work for the TSA. If you are male and born after 1959, you must also be registered with the selective service.
The test is given at a TSA facility testing center. There may be multiple people taking the test at one time. Each test taker sits at their own computer monitor. If there is a dangerous object in the image, press 1. If the image appears to be safe, press 2.
Common and Past Names of the TSA X-ray Test
TSA X-ray ORT
TSA Object Recognition Test
TSA CBT Test / TSO CBT Test
TSA X-ray Image Interpretation Test
Computer-Based Training (CBT) Test
TSA / TSO Screener Test

Organizations that Use X-Ray ORT in their Hiring Process
The US Transportation Security Administration (TSA) is only one of many security authorities and agencies that administer an X-Ray ORT as part of their hiring process of Transportation Security Officers (TSO). There are a number of government and private organizations that make hiring decisions based on their candidates' performance in X-Ray object recognition tests, including:
UK Civil Aviation Authority (CAA) and the British International Freight Association (BIFA), which administers the National X-Ray Competency Test (NXCT Test) to ensure that X-Ray screeners working in the aviation security industry meet minimum performance requirements. The pass mark of this up-to-1-hour-45-minutes test is 80% and it has three different versions – NXCT for cabin baggage, hold baggage, or air cargo and mail screeners.
The Canadian Air Transport Security Authority (CATSA-ACTSA) contracts three security firms that operate at airports across Canada and requires all of them to include an X-Ray threat identification test to any person they wish to employ as a pre-boarding screening officer. These firms are:

GardaWorld Aviation Services in the Central Region and the Prairies Region
Securitas Transport Aviation Security in the Eastern Region
G4S Secure Solutions in the Pacific Region

ISS Australia – a leading security firm in Australia, which partnered with Kedlin Screening International (KSI) to administer the X-Ray Screener Test to its prospective employees
The International Air Transport Association (IATA) X-Ray Screening Test is administered by many of the 290 airline companies represented by this trade association. This online 25-minute x-ray image interpretation test has an 80% passing grade and is an important part of the training of security screeners in airports and cargo facilities.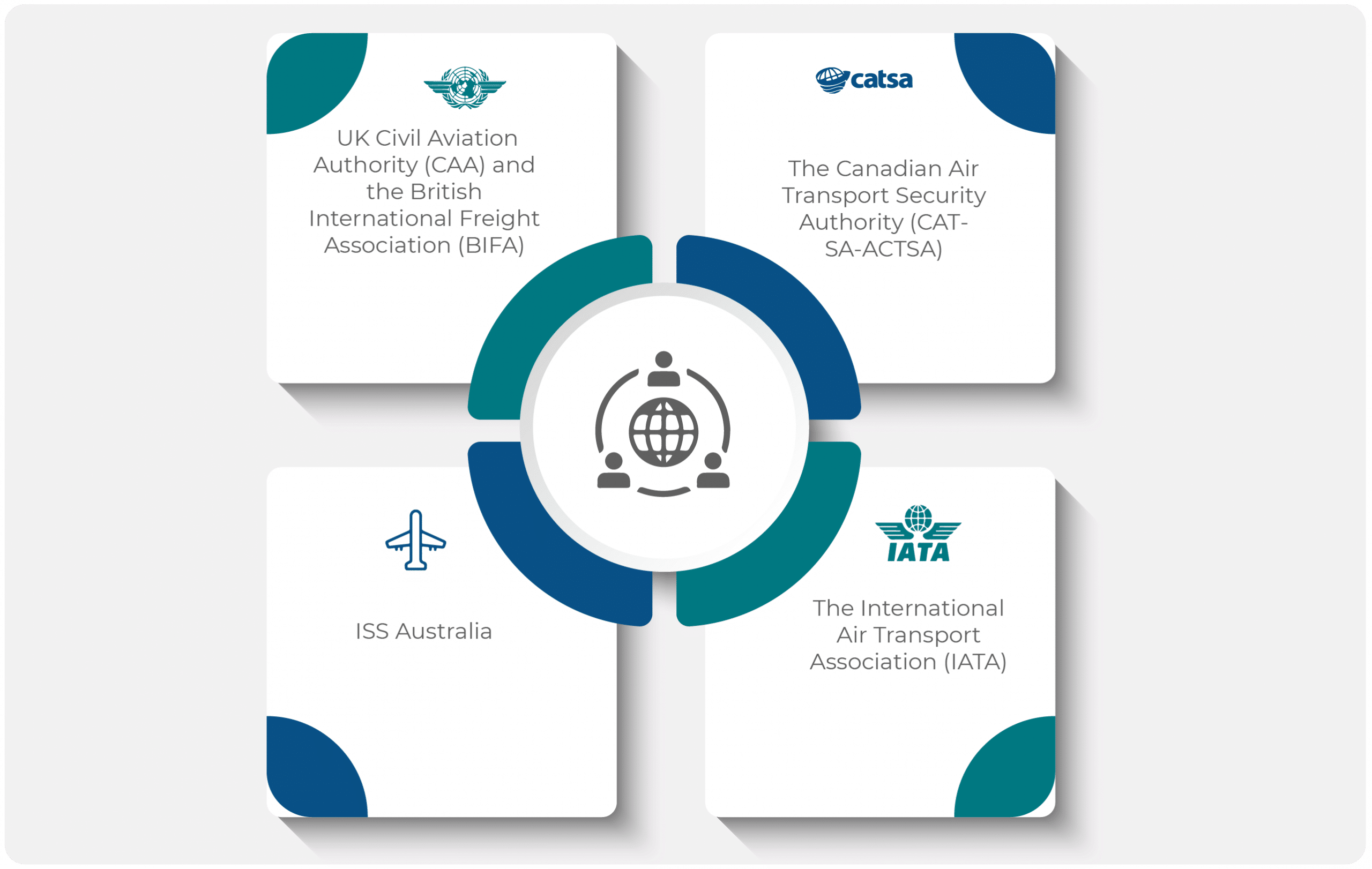 Positions Requiring an X-Ray ORT Test
Different agencies and organizations refer to the screener's position in different names. If you are applying to any of these jobs, take into account that you will probably need to pass a pre-employment X-Ray recognition test as part of your recruitment process:
Pre-Board Screening Officer Test
Transportation Security Officer
Airport Security Officer / Airport Security Screener
Cargo Screener / Security Screener / X-Ray Operator
Security Screener Officer / Package Screener
Aviation Screener
Security Xray Screening Specialist
The Main X-Ray Competency Assessment Tests Used Today
There are a number of different x-ray tests being used. While some of the details may differ, if you are trying to prepare for any of the following tests, you can use the practice tests offered here for any of the following tests:
CASRA – Center for Adaptive Security Research and Applications in Switzerland – Which offers either the CASRA X-Ray ORT (Object Recognition Test), which is a gray-scale based images or CASRAX-Ray CAT (Competency Assessment Test), which is the full color version.
Simulscan X-Ray CBT – Screening for aviation security and surveillance companies.
Kedlin Screening International (KSI) – X-Ray Screener assessment
VIA Project Aviation Security – Cabin Baggage Screening (CBS) and Hold Baggage Screening (HBS) tests.
Additional in-house x-ray tests – tests like those developed by the TSA.
Why X-Ray Object Recognition Tests Are Used in the Hiring Process
Human operators have the final word as to whether someone can or can't enter an airplane. These operators rely on their visual abilities to quickly scan an x-ray and make a determination about a passenger. Studies have shown that while training will improve an individual's ability to scan an x-ray, not everyone has the potential to become a proficient x-ray image interpretation expert. X-ray tests helps the TSA hire individuals with the right core skills.
Download Your Copy of the XRAY Test PDF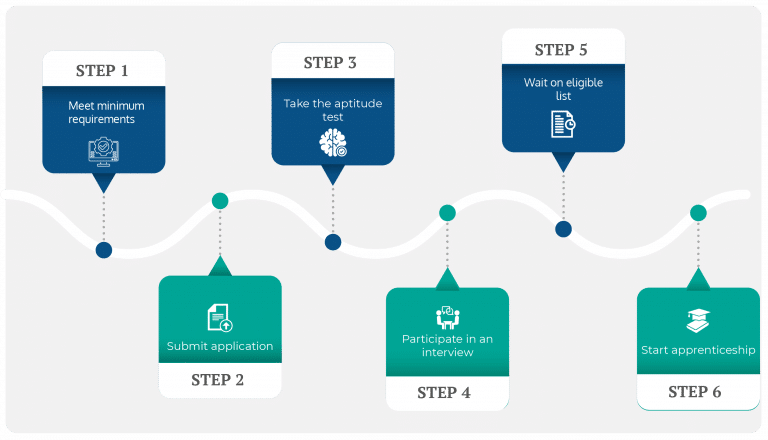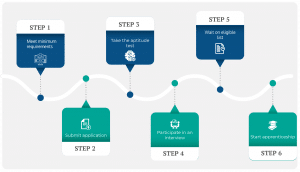 Results Scale and Interpretations
Results from the TSA CBT test are available within a few minutes. You will receive points for each correct answer, while points will be deducted for each incorrect answer.
Results are delivered by email. If you pass, you will receive a contingent offer of employment. However, you must still submit several forms before you can start working, as well as have an interview, pass a medical evaluation and drug test, and successfully complete a background test.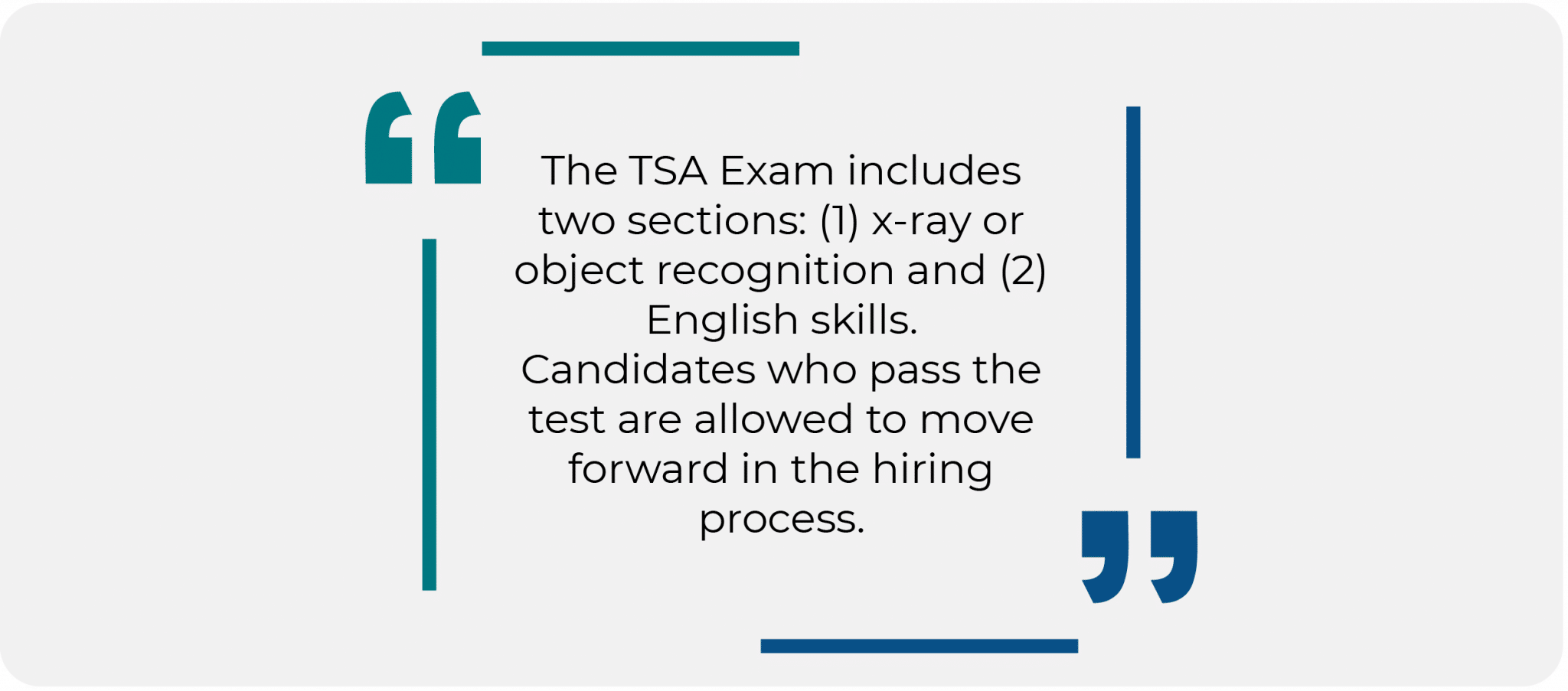 TSA CBT XRAY FAQs
How long is the TSA test?
You should expect that the test will take a total of 2.5 hours to complete. This includes both the sections of the test, as well as a break.
How do I pass the TSA CBT?
The TSA CBT is comprised of two sections. First, there is the Basic English Skills section of the test, which most native English speakers will easily pass. Then, there is the X-ray ORT test. Passing the x-ray portion of the test is more difficult, due to the time limit on each x-ray image. Successful candidates often take practice exams, so that they are used to the speed of the test and the nature of x-rays.
How do I prepare for the TSA's X-ray test?
The best way to prepare for the x-ray test is to take a TSA practice test. This will familiarize you with the format of the test and the time frame, as well as get you comfortable with looking at luggage scans.
How many questions are on the TSA CBT?
There are approximately 60 questions in the written section, and 100 images in the x-ray section, which are divided into 5-6 sessions.
Is there a practice test for X-ray test?
Yes, there are a number of TSA CBT practice tests for the X-ray test, including a free TSA practice test offered by iPrep. The practice tests simulate an actual test, so that by the time you are ready to take the test you are experienced in recognizing luggage scans, and comfortable with seeing and responding to a scan within 15 seconds.
Can you prepare for the TSA test?
X-rays present objects in different colors, making it easier for luggage screeners to identify objects. By understanding the colors in an x-ray, you will have an easier time recognizing dangerous objects.
• Black/Blue – This color indicates hard materials, including metals, hard plastics, and ceramics. Guns, knives, and wires usually appear in these colors.
• Green – This color indicates less dense objects. Objects that are blue and green are frequently electronic devices, such as laptops or phones. 
• Orange – This color indicates biological materials, including food, leather, liquids and gels. 
Research has shown that your ability to recognize x-ray scans will improve with practice.
Is the TSA computer test hard?
There are different sections to the TSA computer-based test. The most difficult section of the test is the X-ray test, where you are challenged to recognize dangerous objects within 15 seconds. This task is difficult as many times the objects are laid in a position that makes it difficult to recognize the outline of the object. In addition, other objects in the bag may hide or cover up portions of the object.
Only about 30% of test takers pass this section of the test, which is required if you want to work as a transportation security officer. Those who do pass the test are occasionally required to take the test multiple times to ensure that they maintain their threat identification skills.
What is an object recognition test?
An object recognition test, or ORT, tests ones' ability to recognize shapes of object in an x-ray. This type of test is frequently used to test security screeners, who must quickly assess if a passenger's bag contains weapons or other dangerous objects.
What type of questions are on the TSA CBT test?
The TSA CBT test is made up of two sections. There is an English skills test, where you will be tested on vocabulary, reading comprehension, and spelling and grammar. There is also an object recognition test, where you will have to look at an x-ray and determine whether or not there are any weapons or other dangerous objects in the picture.
TSA CBT XRAY Test Tips
It might be challenging to pass the Object Recognition Test (ORT) if you are not well-prepared. Here are some tips to help you:
The first thing you must do is to stay calm and relaxed so you can focus clearly on the test. You can calm yourself by taking a few deep breaths.
Recognizing an object (e.g. knife) from an XRAY image of luggage might be difficult at first. But it sure gets better with practice with the help of XRAY sample questions.
Remember, you have 15 seconds to identify an object. So make sure you sharpen your visual awareness skills before taking the test.
To identify an object from an image of luggage full of mixed items, study in advance the look of mechanical objects, their shapes, what different colors on an XRAY image mean and how the item looks like at "inconvenient" angles.
Pay attention to the image from different angles to find out the outline of the item you need to identify.
You will receive a point for every right answer. If you answer incorrectly, you will lose a point.
The key to remember here is to get used to the style and format of questions by practicing XRAY Sample Tests.
Keep your attitude positive no matter what people say about the test.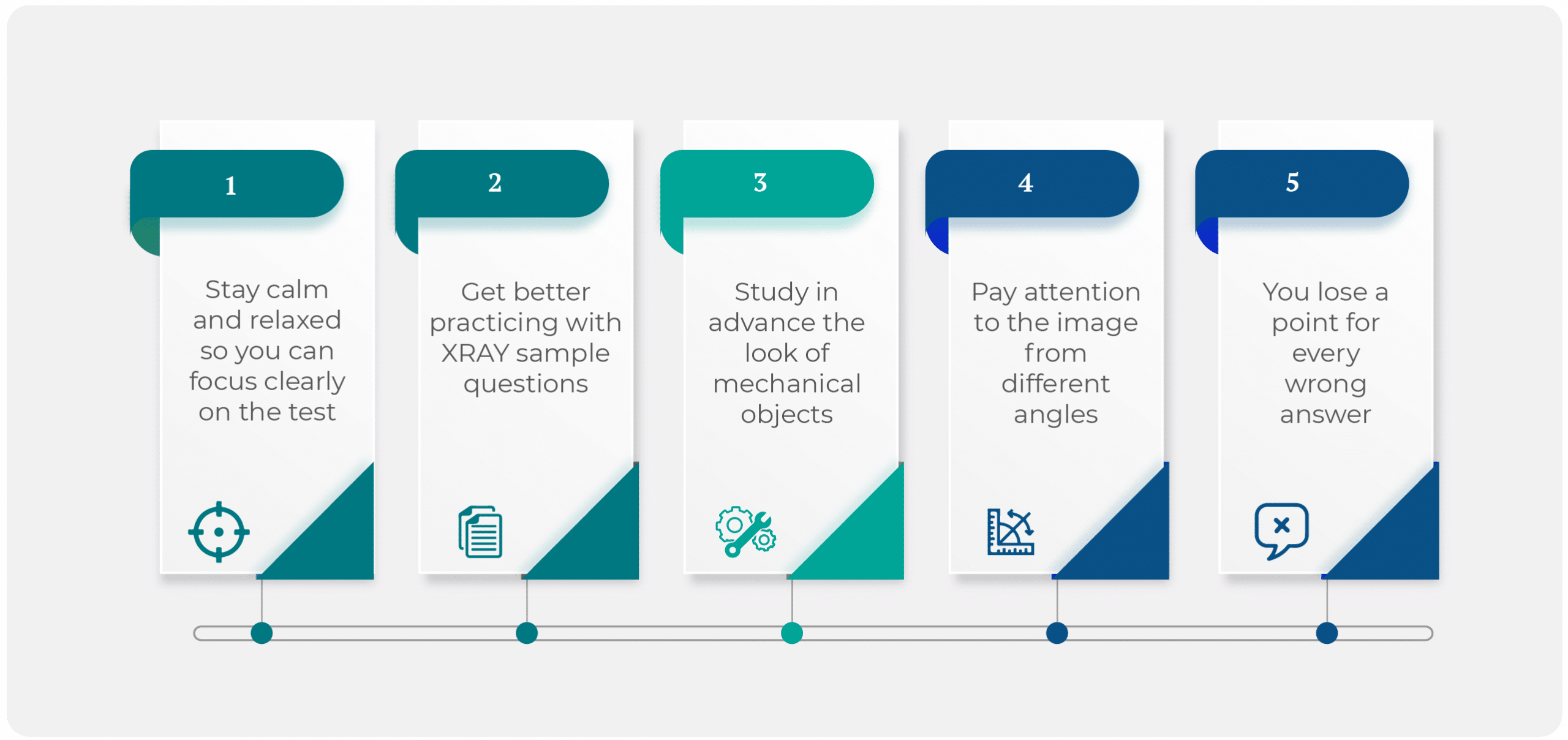 Administration
Test Location: The TSA CBT test is taken at a TSA facility testing center.
Test Schedule: Test takes place after you find an open TSO position and submit an online application.
Test Format: Computer simulation
Test Materials: Computer.
Cost: None
Retake Policy: Can be retaken once, after six months. After a second failure, candidates are ineligible to take the test again.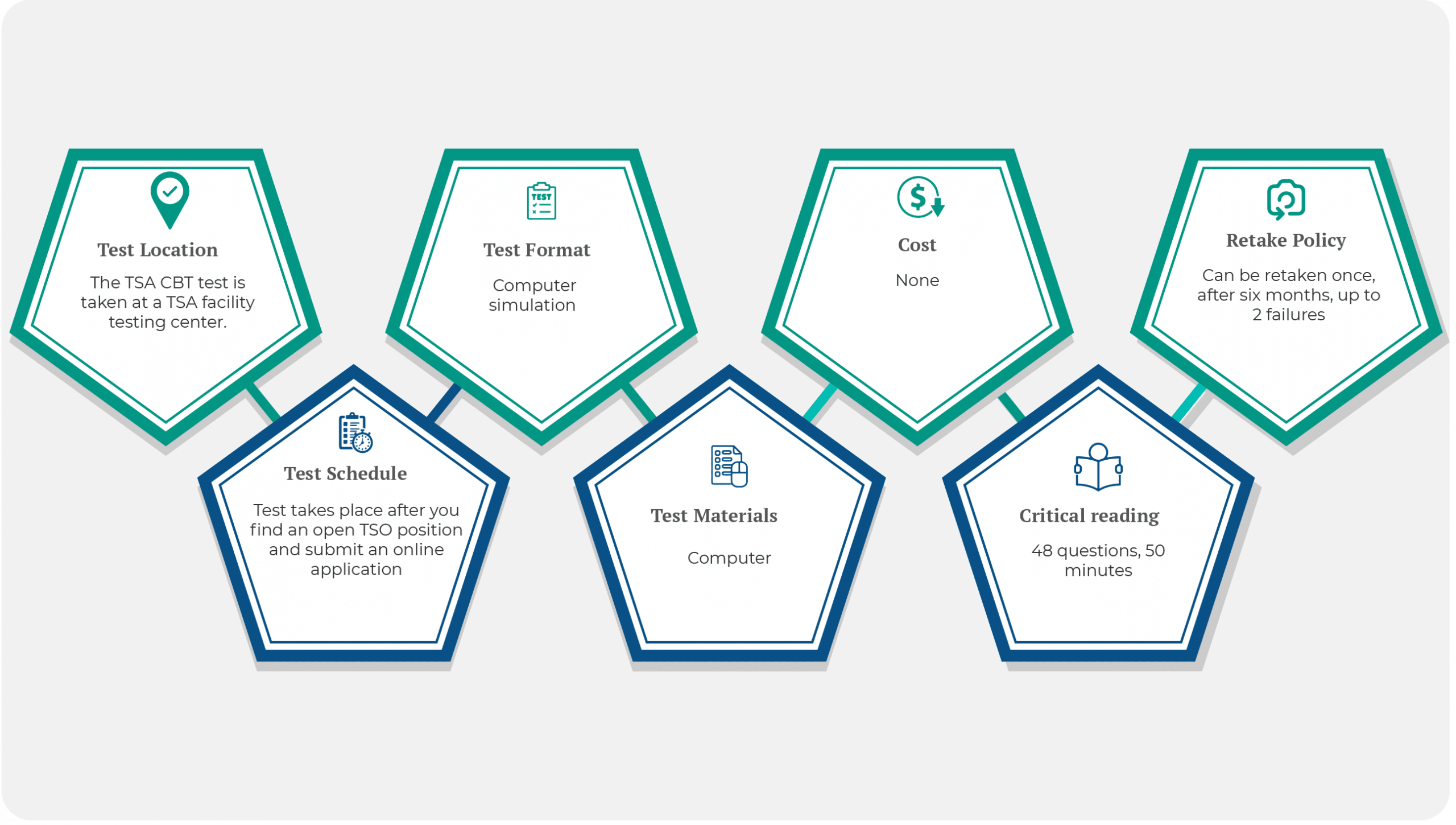 Test Provider
The X-ray Test was produced by the Transportation Security Administration (TSA), which was formed after the terrorist attacks in New York, Pennsylvania, and Virginia on September 11, 2001. The main aim of the organization is to prevent such fatal attacks in the future and save lives. Inspired by such a noble cause – to serve the nation – thousands of people joined TSA and helped in the free movement of people and commerce by building up a strong and secure transportation system.
Transportation Security Administration's Computer-Based Tests have two parts: TSA Writing Skills Test and TSA XRAY Test. They are used as pre-employment tests for pre-boarding screening officer positions. Other TSA tests are used for different positions such as an inspector, manager, air marshal, security officer, etc. If you want to increase your chances of getting hired for the screening position, you must pass the Transportation Security Administration Tests. In addition, you must be a U.S. citizen, 18 years old and have a high school diploma in order to take any of the TSA tests including the XRAY test.
Information Sources
Disclaimer – All the information and prep materials on iPrep are genuine and were created for tutoring purposes. iPrep is not affiliated with the Transportation Security Administration, which is the owner of the XRAY and ORT Tests.
In this TSA CBT XRAY sample exercise, your goal is to recognize whether cameras or shoes are found in the following pieces of luggage.
Here are a few examples of cameras and shoes, as they appear through X-ray scanners. Study the examples and then move on to the sample items.
Cameras – The body of a camera is usually made of high-density plastic or alloys. Therefore, their body will be dark green or even blue.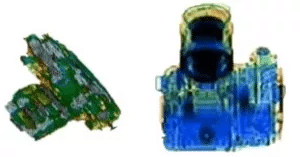 Shoes – Shoes are made of organic fabrics or very light plastic materials. They usually have an orange shade, which means that it might be quite difficult to recognize them among other objects. Try to locate metallic plates which are often inside the sole of the shoe.

Question 1 of 10
Is there a camera within the baggage?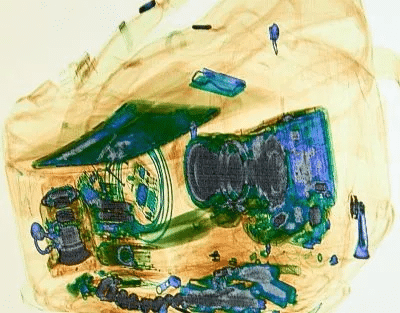 There is a camera within the baggage.
The camera was pulled out of the baggage in the image below. There is another electronic device in the baggage but it is not a camera.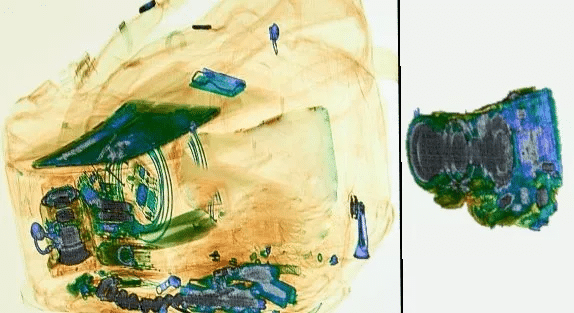 Question 2 of 10
Is there a camera within the baggage?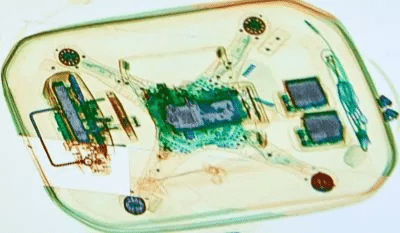 There isn't a camera within the baggage.
The object at the left resembles a camera but it is a remote control of a quadcopter drone, which takes up most of the baggage.
Question 3 of 10
Is there a camera within the baggage?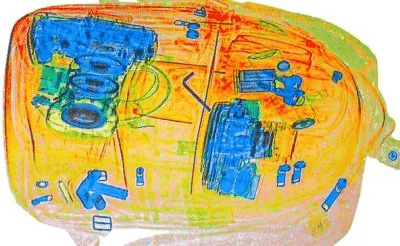 There is a camera within the baggage.
There are actually two cameras. These were pulled out of the baggage for demonstration purposes.
The other metallic (blue) devices that can be seen are a few keys, two AA batteries, and a few pullers of zippers.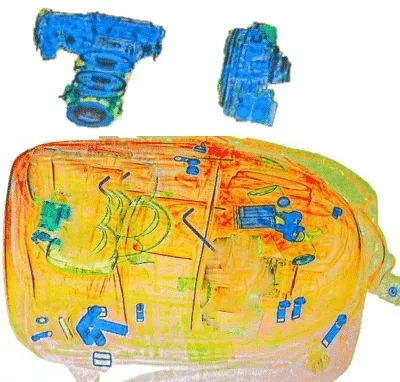 Question 4 of 10
Is there a camera within the baggage?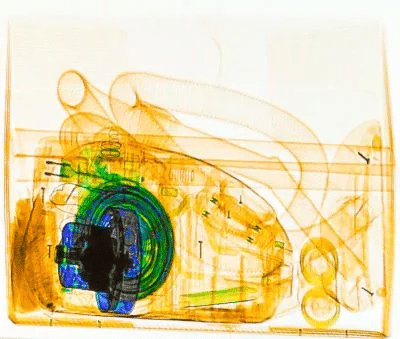 There isn't a camera within the baggage.
While it seems similar to a camera, the blue object is in fact the motor of a vacuum cleaner. While the darker part may seem like the camera's lens, the body of the camera cannot be found. The green-blue round object is the vacuum cleaner's power cord.
Question 5 of 10
Is there a camera within the baggage?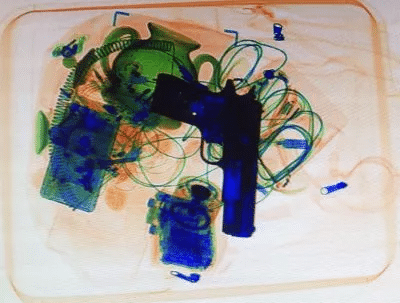 There is a camera within the baggage.
While the gun draws most of one's attention, there is also a camera within the baggage. It was pulled out of the baggage in the image below. In this case, the angle of the camera might make it a bit more difficult to notice.
The other darker (dense) objects are a smartphone, a spring, a vase, and a few cables. There are also some orange objects made of organic materials, which are probably clothes.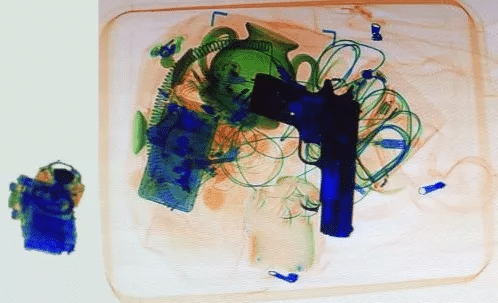 Question 6 of 10
Is there a pair of shoes within the baggage?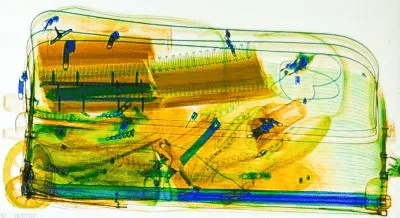 There are shoes in the baggage.
The pair of shoes is marked with a red frame. You may also recognize a few spiral notebooks within the baggage.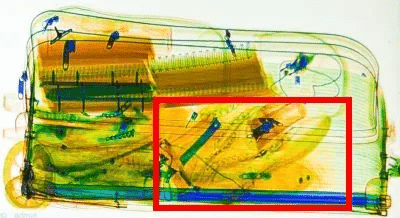 Question 7 of 10
Is there a pair of shoes within the baggage?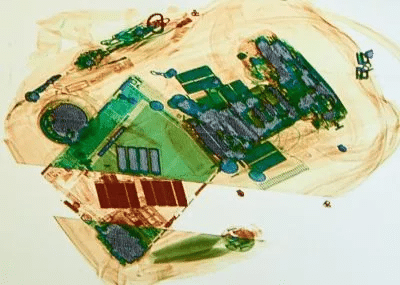 There are no shoes in the baggage.
Question 8 of 10
Is there a pair of shoes within the baggage?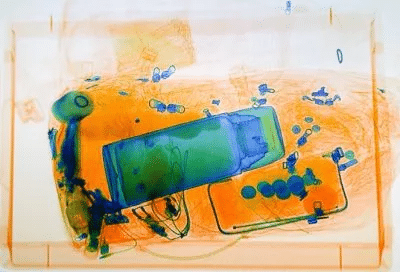 There are no shoes in the baggage.
There are several objects made of organic materials within the baggage (orange shade) but these are clothes rather than shoes. The main object in the center is a metal bottle with a screw cap (blue) filled with some fluid (hence the orange shade). At the bottom right there is also a wallet with a few coins.
Question 9 of 10
Is there a pair of shoes within the baggage?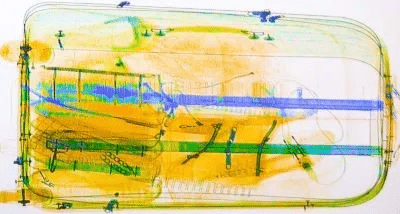 There are shoes in the baggage.
The pair of shoes is marked with a red frame. One may think that the cables at the right are also an outline of another pair of shoes; yet, this is not the case. If these were shoes, you could expect to see an orange color filling in the outline, as shoes are entirely made of organic materials or light plastic polymers (all with orange shades)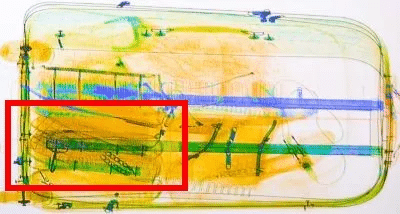 Question 10 of 10
Is there a pair of shoes within the baggage?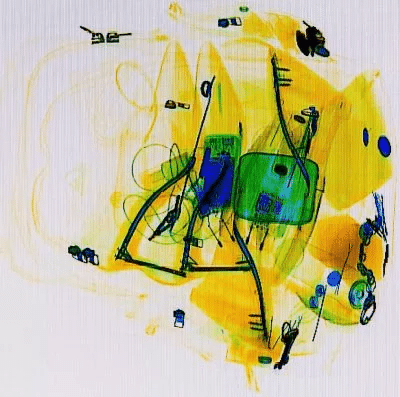 There are shoes in the baggage.
There are actually two pairs of high-heeled shoes in the bag. These can be identified by the metal plates implanted inside the heels and all the way through the soles.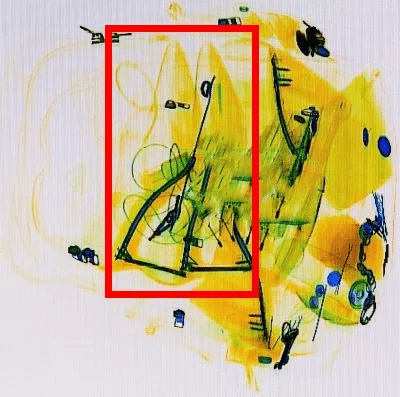 Well done!
You have completed the Sample Questions section.
The complete iPrep course includes full test simulations with detailed explanations and study guides.
About the course
Welcome to iPrep's X-Ray Object Recognition Test course.
This course will help you boost your skills and with it your confidence towards your upcoming test. This is the most challenging test that you need to pass in order to become a transportation security officer. The format of the test conforms with the TSA CBT exam but it will provide the necessary skills for those who are about to take the test of other companies/organizations.
The course is comprised of both practice and learning sessions. It will provide you with the following tools and benefits:
The learning lessons will help you understand the underlying techniques that are essential for succeeding on the test. You will learn how to interpret images of luggage that went through X-ray imaging: how to recognize different materials, how to identify threats, and how to eliminate distractions.
You will take several Xray object recognition tests. In each simulation you will be introduced with a specific type of object, and then you will try to recognize that specific object in a series X-ray images. The simulations are timed according to the time limits of the TSA CBT exam. Experiencing the test's time pressure will ensure it will not come as a surprise on test day.
You will then be able to re-approach each of the simulations in the non-timed Practice Mode. This enables you to take the time to carefully examine each image in order to recognize additional items in each bag.
Bonus – the XRAY course includes practice for the first TSA test section – basic English skills.
By the end of this course, you will be more knowledgeable and comfortable with the X-ray object recognition test. Knowledge and familiarity with the test are the two most significant factors that can help you maximize your score and improve your chances of success.
Wishing you an enjoyable learning experience!
Skills you will learn
Curriculum
Course Introduction
X-Ray Object Recognition Guide

Colors and Density
Shape and Size
Challenges of X-Ray Imaging Interpretation

X-Ray Object Recognition Test Simulations
Bonus – Writing Skills Assessment Practice
Course Conclusion
Customer Testimonial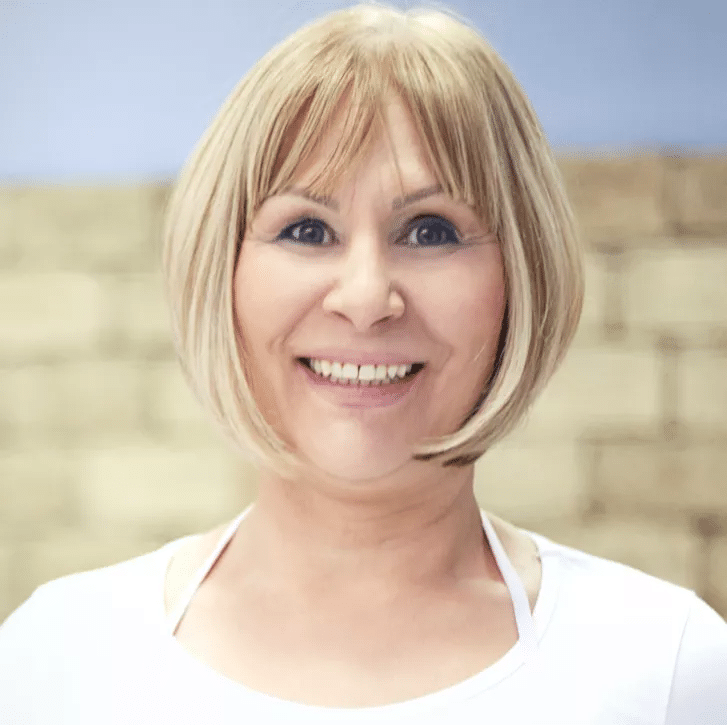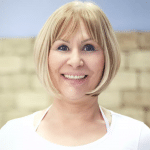 I took my test today and few minutes late, I received an email saying that I pass. In order for you to pass the test, you have to be calm. Try not to stress it out….this course will definitely help. They will not show any of the pics u see on the course, but just knowing how to identify it help a lot. Iprep thanks a lot for this course.
Yvener Cooper
October 26, 2019 at 3:05 AM
Reviews

February 27, 2023 at 10:15 PM
Highly recommended. This gives the basic insight and analysis on taking the exam. I do, however, would really like to see more pictures from both the x-ray timed and practice modes. And if it's priced lesser, this will be a very great tool to ace the exam.

February 24, 2023 at 8:57 PM
This course helped me prepare for my cbt test and got me familiarized with the format that the test would be given in. They made it super simple to understand what sections I needed to focus on and what I needed to study before taking the exam. Helped me sooo much!

February 24, 2023 at 2:09 PM
Super amazing and helpful. Really helped me to pass my test. Definitely reccomend it for anyone. Such good practice for the actual thing

james.masterson@lcb.state.nv.us
February 20, 2023 at 7:34 PM
As new to this position your course added great knowledge to my job. Comfort level as to what is expected.

February 16, 2023 at 8:36 PM
I passed my exam after completing my iPREP course. I would recommend the course for someone who will be taking a exam they need to pass.